Toshiba launches telly-connected media drive
Why wasn't the new Apple TV like this?
Toshiba has at long last launched the TV-connected hard drive it showed us in a backroom way back in February.
Then, the StorE TV+ had a specification sheet with rather a lot of 'to be determined' labels on it. Now, it's all sorted: 2TB of hard drive storage; HDMI and component-video ports; SD memory card slot' two USB 2.0 ports; 802.11n and 10/100Mb/s Ethernet connectivity; and a 2in LCD screen on the front so you don't have to turn the telly on just to play some music.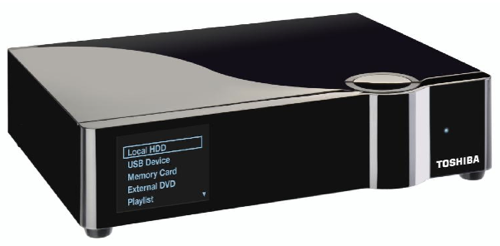 The format support is impressive, including Ogg and Flac on the audio side - plus all the usual suspects - and MPEG 1, 2 and 4, H.264, VC-1 codecs - plus AVI, WMV, MKV, MOV and MP4 containers - for video.
All that's missing, it seems, is DivX/Xvid, but it will handle 1080p output.
An array of subtitle formats are supported too, fans of foreign film will be pleased to read.
The black 206 x 160 x 47mm box comes with its own remote control - and the knowledge that it gets right what the Apple TV got wrong.
The Toshiba StorE TV+ goes on sale later this month for £200. ®