MokaFive outs bare-metal PC hypervisor
Somewhere between VMware and Citrix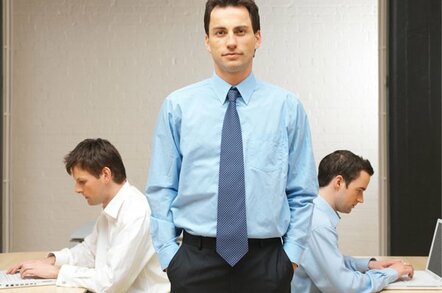 Disappointed with the ridiculously skinny PC coverage offered by the XenClient bare-metal hypervisor just announced by Citrix Systems? Annoyed that VMware took its Client Virtualization Platform, also a so-called type 1 hypervisor for PCs, out behind the barn and gave it the Old Yeller? Then MokaFive is cooking up something you might find useful.
Like everyone else in the universe, MokaFive is demonstrating its forthcoming virtual wares at the VMworld virtualization and cloud extravaganza in San Francisco this week. And the key thing MokaFive is showing off is called BareMetal Player. As the name suggests, this is the kind of hypervisor for PCs that Citrix and VMware have been talking about delivering, and according to Purnima Padmanabhan, vice president of products and marketing at the company, it will work on a lot more machines than XenClient, which is restricted to a handful of Intel-based PCs supporting the vPro business PC management extensions, as El Reg recently explained.
(XenClient is certified to run on thirteen different PCs from Hewlett-Packard, Dell, or Lenovo. That's it).
There are some ironies in the MokaFive history. The company was founded in 2005 by a bunch of Stanford University propeller heads (much as VMware was founded by a bunch of Cardinals back in 1998). As El Reg reported when MokaFive came out of stealth mode in April 2008, some of the company's founders were actually students of VMware co-founder Mendel Rosenblum, a Stanford professor, and Monica Lam, MokaFive's founder and chief scientist, has been a professor at the university since 1988. Ramesh Chandra, Constantine Sapuntzakis, and John Whaley are all Cardinals as well and co-founders of the company.
The most interesting VMware connection is that MokaFive is a licensee of the VMware Player, which is a self-contained hypervisor for PCs that runs atop a host Windows or Linux operating system. MokaFive based its initial LivePC image packaging system on VMware Player. The MokaFive Suite packages up desktop operating systems, applications, and data into an image and runs them on a rebadged VMware Player, which you can download from a server, install from a DVD, or boot from a USB stick. The MokaFive Console can synchronize VM images with the management server as they change, only sending incremental data back and forth over the network link as either side changes. The console can also reach out and destroy an image if a PC is stolen.
Most of the computing is done on the PCs with the MokaFive approach, instead of on servers as with virtual desktop infrastructure (VDI) setups. The upshot is that with the MokaFive approach to virtualizing PCs allows for end users to continue working in offline mode if the network connection is broken. Such capability, which MokaFive delivered two years ago, is what VMware is bragging about this week as being production-grade in the new View 4.5 VDI stack.
With Citrix doing a less-than-inclusive job on the bare-metal PC hypervisor, and VMware trying to work on your "cloud identity" with its Project Horizon, MokaFive thinks the market does indeed want a bare-metal PC hypervisor, and so, according to Padmanabhan, the techies at MokaFive have grabbed a popular Linux distro - the company won't say which one - and ripped out everything that was not necessary and locked it down to turn it into a hypervisor for running the Moka Player.
Hence the name, BareMetal Player. Padmanabhan says that the company is too small to get into a driver race with Microsoft, "which would surely win that race," and hence choosing a popular Linux as the basis for running Moka Player on naked PCs. The underlying Linux is almost certainly Ubuntu, Fedora, or openSUSE. All that Padmanabhan would say is that the company chose the one with the broadest driver support and has worked very hard to ensure that 3D graphics work well.
With BareMetal Player, companies will be able to lock down their remote and local PCs using the same hypervisor and giving notebook and netbook users running just about any PC offline VDI capability. And the economic of this inside-out VDI approach - let the cheap PC do all the computing instead of the expensive server while keeping management back at the data center - is going to resonate with cheapskates for sure. The MokaFive Suite costs $150 per user per year, including the management console and technical support, and the company doesn't care if you deploy LivePC images on the bare-metal hypervisor or on host operating systems.
The BareMetal Player is in technical preview right now, and a beta program for the code is just starting up. Padmanabhan says that the company expects the code to be generally available in the first quarter of 2011. ®
Sponsored: Detecting cyber attacks as a small to medium business