Apple states tax take on UK iPod pricing
You pay this, we take that, George Osborne gets the other, Eurocrats get the rest
Apple has made it explicitly clear how much more its charging UK consumers for its kit than US-based buyers.
The UK online Apple Store now states how much of a gadget's price goes to "VAT, duty and levies". VAT is obvious - it's our sales tax, overseas readers, billed at 17.5 per cent - and duty is the amount the European Union charges for imports of certain types of product - those with integrated FM radios, for example.
Apple's definition of 'levies' remains unclear - there's no explanation on the website, so we assume it's a catch-all for fees like those payable in some countries to compensate artists for the effects of copyright infringement.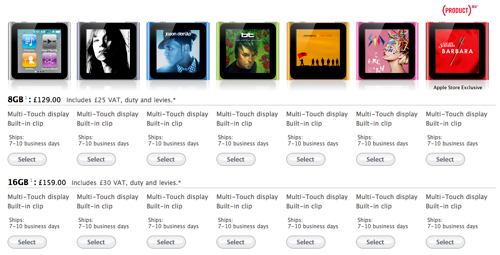 The new iPod Nano on the Apple Store
Not that the UK has such a levy, last time we looked, though many other European nations do.
Apple states the 'extras' total is "an approximation. VAT, duty and levies may vary over time".
Back to the iPods. The new 8GB Nano, for example, is listed at £129, of which £25 goes to VAT, duty and levies, says Apple.
So that's £104 for the player itself, which is the equivalent of $161 at today's Sterling-Dollar exchange rate: £1 to $1.55. Apple charges $149 in the US - the equivalent of £97.
Now, Apple has to build in some flexibility to deal with fluctuating exchange rates, but the implicit rate of £1 to $1.43 in the £104 to $149 seems a tad conservative to us.
Bear in mind, too, that some but not all US buyers pay sales tax, and US prices are listed without this State-set extra. The highest is California's 8.25 per cent, though local taxes can push this higher, up to 11.5 per cent in some parts of Illinois.
Sponsored: Your Guide to Becoming Truly Data-Driven with Unrivalled Data Analytics Performance