Samsung R780 17.3in laptop
Big and beautiful?
Ridiculously bright display
The only problem I found was that it's hard to find your way to the arrow keys without first glancing down at the keyboard – usually the arrow keys have a bit of space between them and the other keys. Plus, of course, if you're frequently number-crunching, the design may result in you bashing the right arrow key instead of the zero.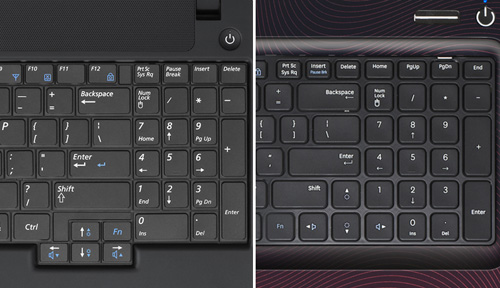 Numberpad styles: Samsung's X520 (left), R780 (right)
Although the photos might make it look like the R780 is tarnished by a glossy touchpad, this section actually has a perfectly-textured surface that makes it both easy to use and accurate. Four tiny blue lights rather pointlessly mark out the edges of the touchpad, and Samsung has sensibly set these to automatically switch off after 30 seconds of inactivity – the only way to turn them off permanently, however, is by disabling the touchpad altogether.
Sadly the touchpad buttons aren't quite as impressive as the touchpad itself. They take the form of a single bar that's ever-so-slightly recessed into the chassis, and during testing I frequently found myself digging my thumbs into the chassis instead of the buttons.
Measuring up at 17.3in and with a native resolution of 1600 x 900, the display performs very well. Colours are vibrant and it benefits from decent viewing angles. It's also ridiculously bright, and during testing I had to reel it back to three-quarter brightness in an attempt to save my eyes.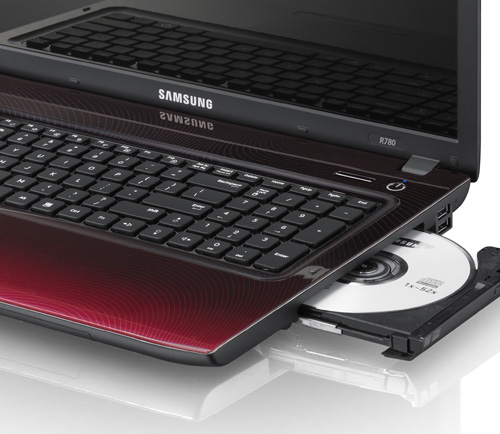 Blu-ray drive, but there'll be no 1080p action on the display
Considering there's a Blu-ray drive sitting expectantly on the right side of a chassis, it's slightly disappointing that the display can't handle 1080p video. If you want to watch a Blu-ray disc as it was intended, you'll need to hook the R780 up to a TV using its HDMI port.
Sponsored: Detecting cyber attacks as a small to medium business