Embotics plays nanny for VMware virtual machines
Making Hyper-V mind its manners by year's end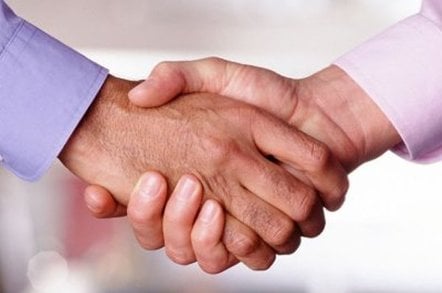 Another VMworld event is coming down the pike from VMware with everyone riding its virtualization wake, and containing VM sprawl is still a problem. Which is why Embotics is kicking up its V-Commander server virtualization management system for VMware hypervisors to the 3.6 release level.
Embotics launched V-Commander 3.6 Tuesday so as to not get drowned out by the cacophony that will be coming out of San Francisco next week at the VMworld event. A whole bunch of features have been added to the V-Commander tool with the 3.6 release to make it more useful to system administrators.
The web-based front end of the tool has been fitted with a self-service portal so companies can set up a repository of virtual machines and their software stacks and give different sets of employees the right to create, modify, monitor, or shut down VMs in the pool of machinery in the data center.
The important thing about this self-service portal, says vice president of marketing David Lynch, is that the portal has very fine-grained control over the functions in V-Commander and the VMware vCenter hypervisor management tool that is part of the vSphere stack.
By giving people access to the self-service portal, companies do not have to give employees access to either V-Commander or vCenter, but they can see the bits of information or control aspects of cloudy infrastructure that are in fact within their job scope.
The portal also includes reporting functions so business managers and other members of the IT staff can automatically have reports about VM capacity, performance, and what have you automatically shipped to them. This means system admins don't have to be at the hub of everyone who needs a virtual machine or a report.
The V-Commander software now has what Embotics calls container X-ray, which allows V-Commander to peer inside of running VMs and gather performance information about the applications, not just the VMs that wrap around them. You can't manage just VMs, obviously, although that is a necessary first step.
V-Commander 3.6 features capacity management, which take performance data for VMs and looks at what CPU, memory, I/O, and storage resources that have been devoted to them when they were created, shows what resources they have actually used, and suggests how to rightsize the VMs to free up those resources for other workloads.
V-Commander has lifecycle management and workflow, change management and auditing, and policy-driven automation to watch and control VMs as they move from development to production to deletion. And this is hooked into the self-service portal so that, for instance, a programmer could request a VM from the portal, a line manager could approve the expense, and a system administrator could configure it for testing and then put it into production when it is ready.
One other big change with V-Commander 3.6 is Microsoft's Hyper-V hypervisor and Systems Center Virtual Machine Monitor plug-in is now supported alongside of VMware's ESX Server hypervisor and vCenter console. This Hyper-V and SCVMM support will be demonstrated at VMworld in San Francisco, California, next week, and will ship in production-grade form by the end of 2010. Embotics is not sure what hypervisor to support next.
"We still want to see what Oracle is doing with Sun," says Lynch. "We still see Xen out there, but mostly at hosting providers."
XenServer and KVM, in its myriad forms, are the obvious next choices of hypervisor for Embotics to plug into V-Commander.
The pricing model for V-Commander is a bit different starting with the 3.6 release as well. With the current release, V-Commander costs $398 per processor socket per year for the servers under management, with support included in that price.
With the prior release, Embotics was charging $320 per core, with maintenance of 20 per cent per year on top of that. Obviously, as the core counts on x64 servers have gone up, this represents a big price break. ®