Cloud.com bear hugs VMware vSphere
Next up: Smooches for Oracle, Microsoft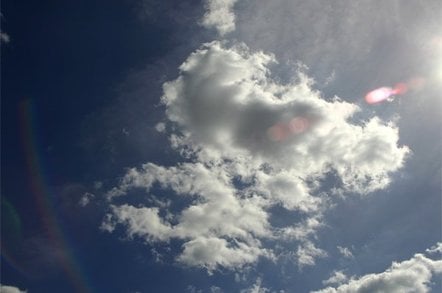 Cloud.com – the outfit that offers a platform for transforming your existing data center setup into a so-called infrastructure cloud – has introduced support for VMware's vSphere 4.1 hypervisor and its accompanying vCenter management console. The CloudStack platform already dovetails with other hypervisors, including open source mainstays Xen and KVM.
"You'll be able to go into a multi-hypervisor host environment, where you can choose from among Xen, KVM, or vSphere," Cloud.com director of marketing Peder Ulander tells The Reg.
CloudStack is designed to create not only Amazon EC2-like "public clouds" that serve up scalable, on-demand processing power to world+dog, but also "private clouds" that offer such infrastructure for use behind the firewall, within a particular enterprise. And according to the company, it's designed to work without major changes to your underlying data center setup. "We were founded with the goal of creating a software platform that would enable anyone with a data center to turn their environment into a cloud," Ulander explains.
The company bills itself as an open source outfit, but it should be noted that it uses the sort of "open core" model adopted by the likes of private-cloud outfit Eucalyptus and Hadoop shop Cloudera. The heart of the platform is open source, but the company also offers an enterprise version that includes proprietary code.
For instance, a plug-in for connecting to a billing system is not open source. "The fundamental theory is that if you're going to make money off of this, we're going to make money off of this," Ulander says. He also says that other pieces are closed because they involve hooks into proprietary extensions and APIs from the likes of NetApp and Cisco.
With the addition of vSphere and vCenter support, the company aims to serve outfits that have already deployed VMware. "Within an existing VMware vSphere environment, companies can deploy a full-blown cloud platform using Cloud.com and deliver that experience to their end users," Ulander says. "We build on top of VMware."
In essence, Cloud.com puts an agent onto all physical machines running VMware and pools these resources into a service that allows end-users to provision machines on the fly – as they're needed.
The company will be demonstrating its vSphereness next week at VMware VMworld conference in San Francisco, California. Ulander indicates that the company will eventually offer support for hypervisors from behemoths Oracle and Microsoft. ®