Samsung heading DRAMurai charge
Number one DRAM deliverer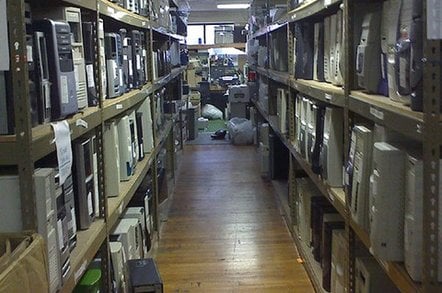 Goliath just got bigger; Samsung expanded its lead at the top of the DRAM market last quarter, shipping more memory than anyone else and at prices above the industry average.
Analyst house iSuppli characterised the quarter as one of explosive DRAM growth and said it was the best second quarter for fifteen years. The overall DRAM market grew from the first quarter's $9.4bn revenue to $10.8bn, a 14.4 per cent rise. There were more bits shipped and the average selling price (ASP) rose 9 per cent.
Samsung outstripped the market, growing its revenue from the first quarter's $3.072bn to $3.819bn, a 24.3 per cent sequential rise giving it 35.4 per cent of the market. (A year ago its second quarter revenue was $1.54bn.) It pulled off a neat trick; shipping more bits than anybody else and at a higher price. Its DRAM ASP was $3.13, ten cents above the market average.
Mike Howard, senior analyst for DRAM technology at iSuppli, said Samsung was, "the first to move to advanced semiconductor process geometries … enabling the company to make semiconductors at a lower cost and at greater efficiency than its competitors. [Its] aggressive push into 40nm semiconductor lithography for DRAM manufacturing boosted the volume of its bit production dramatically." Hynix was in second place at $2.314bn ($980m in Q2 2009) but grew less than the market at 13 per cent.
Third-placed Elpida grew 17.7 per cent to $1.913bn ($745m in Q2209), catching up Hynix but failing to keep pace with Samsung. So too did Micron, growing its revenues at a slow 4.1 per cent to $1.432bn ($628m in Q2 2009), due to process transition problems at its Inotera facility. That facility had to change to a 50nm process and migrate away from Qimonda's trench technology to the stack technology used by Micron.
Howard said: "Once it is past this challenge—which appears to be the case—Inotera should be able to achieve outstanding bit growth for the duration of 2010." If Micron can get its production up then it could overtake Elpida because it has, iSuppliy says: "the highest ASPs in the industry by a sizeable margin."
Inotera Memories is a joint-venture between Micron and fifth-placed supplier Nanya. Nanya grew revenues in the quarter by 11.8 per cent, reaching $473m ($237m in Q2 2009). The rest of the market saw revenues decrease 5.9 per cent to $884m. The top four suppliers had 87.9 per cent of the market, with Nanya having a derisory 4.4 per cent share. The gang of four rule and may well continue to increase their share.
The growth boom may not be sustained as the DRAM manufacturers face tool shortages though. &Reg;