Digital radio 'to miss Govt target by 3 years'
Switchover in 2025?
Digital radio listening won't hit the Government's 50 per cent target until 2018, according a new industry analysis - putting the great analogue switch-off in jeopardy. And when the big day arrives, most of that digital consumption will be via the interwebs and TV - not DAB radio.
The figures can be found in analyst Grant Goddard's counterblast to Ofcom's recent digital radio survey. This draws on publicly available research, but without the Panglossian coating Ofcom sprayed on the figures in its most recent report, and nicely laid out in 24 full page charts. There's no accompanying editorial - the figures speak for themselves.
If you're a radio listener, two charts in particular might pique your interest.
One shows that while "digital radio" means lots of things, only one of them is DAB. Here's a snapshot of what the "others" are (this is for commercial radio listening in Q2 this year, the most recent figures). Quite surprisingly "other digital" amounts to 11.9 per cent all listening. DAB snags 13.4 per cent and radio via a digital telly five per cent.
Most digital radio isn't DAB
Podcasts are a hugely popular "other", while internet radio listening is almost certainly undercounted by industry ratings body RAJAR, which relies on a sample group filling pen-and-paper diaries of what they listened to.
(No, seriously - it does.)
The government's Culture Minister Ed Vaizey was critical of the radio policy while in opposition, but after inheriting it, decided to leave it pretty much intact. You'll recall that Carter's Digital Britain report stated two objectives had to be in place for what it euphemistically called the "Digital Radio Upgrade", at which point a date could be set. DAB radio coverage had to be as good as FM, and digital - note, not DAB - listening had to reach 50 per cent of all radio consumption.
So when will that be? The Digital Economy Act set 2015 as the target, but Goddard extrapolates that this might be 2018, missing the target by three years. But Goddard might be being generous to DAB, here.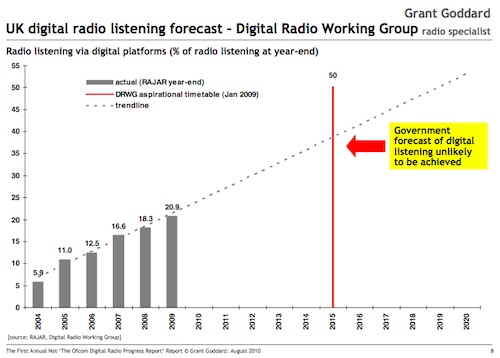 This could be optimistic
His trend line includes the great DAB growth years of 2005-2007, when many people got their first DAB radio set. In 2005, for example, digital radio listening doubled from 5.9 per cent to 11 per cent. But more recently, growth in DAB receiver sales has been flaccid - DAB sales showed negative growth in 2009, and now only 21 per cent of radio receivers sold in the UK are DAB.
If you exclude the growth years, the 50 per cent target won't be reached until 2025.
Policy must take this reality into account. The industry needs to choose one of the many technology options that could be "Son of DAB" - DVB-H, DAB+ for example, and standardise on it for economies of scale, allowing cheap low-power receivers to be built into almost anything. Broadcasters need to be lured back into DAB, and here the regulator and politicians can help.
But the "steady as she goes" policy isn't appropriate for a medium that at the moment isn't waving but drowning. ®
Related Link
The First Annual Not The Ofcom Digital Radio Progress Report [PDF, 90kb] - commentary
Sponsored: Quit your addiction to storage