Group Test: smartphone satnav apps
We look at all the options
Destinator 9
Sadly, the list of what's wrong with Destinator 9 - apart from the silly name - is rather a long one. It doesn't support full UK seven-digit post code searching; the 30-day iPhone free trial - Android and WinMo users get 14 days - only applies to customers in North America; the menu buttons are too small; live traffic data isn't an option in Blighty; and the junction turn guidance arrow is far too big and obscures too much of the screen when it pops up - and it replicates a graphic already shown in the top left of the screen!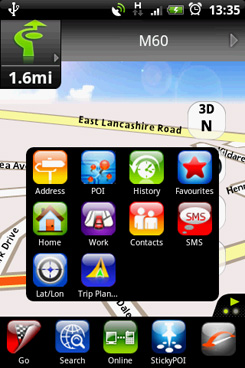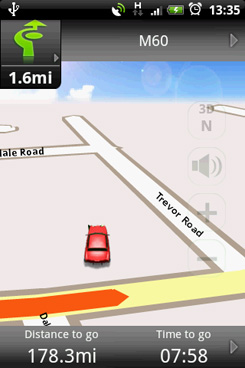 On the plus side the maps - using Navteq data - are very clear, and you get lovely weather-related sky graphics on the horizon in 3D mode. I'm not entirely sold on the way the display swaps between close up 3D and distant birds-eye-view mode when in use, though.
When you choose a destination from your contacts you can see if said contact actually has an address assigned to it from the main view which is a useful feature. The vocal guidance isn't bad though the female voice is a bit barky for my tastes. The iPhone app is significantly cheaper than that for other platforms and you get maps for all of Western Europe for your money rather than just for the UK and Ireland. Makes some sense for American iPhone users but not to the rest of us.

Reg Rating 60%
Price £30 (iPhone, Western Europe) $69.99 (£46.44) Android, WinMo (UK & Ireland)
Platforms iPhone, Android, Windows Mobile
More Info Destinator
Skobbler
An ad-supported free satnav system from Germany - where apparently it's the most popular satnav app around - Skobbler found its way to the UK iPhone App Store in May and has just arrived on Android too. The problem with Skobbler is the user-created map data pulled from OpenStreetMap. Coverage of the UK being a bit patchy. Everything was fine when I looked at the area around my old gaff in Highgate, but scroll up to my current abode in west Manchester and Monton seems to have vanished.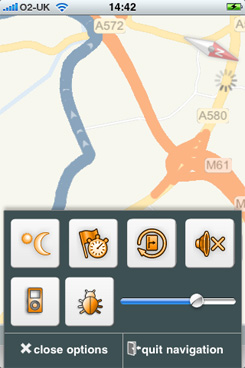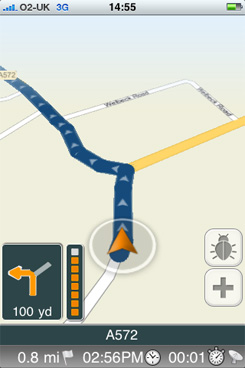 Coverage aside - and it's a big aside, I grant you - Skobbler works well at a basic level, with clear graphics and very good voice guidance - road numbers are read out in the style of A-five-seventy-two, which I like. Destinations can also be chosen on the Skobbler website and then appear in the mobile app when you sign in.
Sadly, there is no searchable POI database, and if you run out of data connectivity you run out of map. Of course, rather than moan about mapping errors in my neighborhood what I should do is register, log in and fix them. That's half the point of Skobbler: to get involved. All in all, an interesting idea but hard to recommend over Google or Ovi until the UK maps become more comprehensive and full seven-digit post code searching is implemented.

Reg Rating 65%
Price Free or £1.19 for the ad-free version
Platforms iPhone, Android
More Info Skobbler