Apple iMac 21.5in 2010
Pro performance
I was curious to see how hot the i3 processor would get inside that slimline frame, but although the vent on the upper rear panel did get quite warm during tests, it never became as worryingly hot as the Core 2 Duo iMac in my office. It's quiet too, with the only noticeable noise being the occasional whirring of the side-mounted optical drive.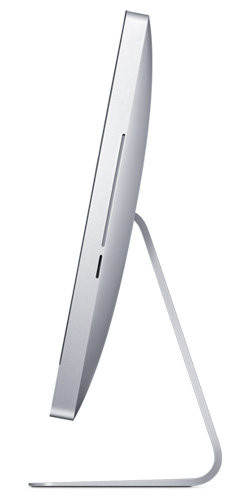 Performance penalty: even an entry-level desktop Mac is a pricey prospect
If you're feeling flush then another £250 will allow you to increase the processor speed to 3.2GHz, and get you a 1TB hard disk and a Radeon HD5670 graphics card as well. The screen stays at 21.5in, though. So if you want to step up to the luxurious 27in model with its higher-than-HD 2560 x 1440 resolution, then you'll have to cough up £1399.
At the top-of-the-range there's the 27in model that costs £1649 with a 2.8GHz Core i5 processor, and which can be further customized with a 2.93GHz Core i7 processor to bring the total up to £1809. You could certainly spec yourself a cheaper system using a conventional tower PC with a separate monitor, but the iMac's £999 price tag isn't that bad when compared to rival all-in-one models, such as Sony's Vaio L13, even if it does lack a touchscreen.
Verdict
The weakness in the iMac range really lies in the models that aren't available – I still miss the discontinued 24in model, while the lack of a more affordable machine in the £700-£800 range seems to suggest that Apple is simply turning its nose up at anyone that can't afford its designer label pricing – and, no, I'm not forgetting the Mac Mini. Many people simply won't need such a powerful machine – and many more won't be able to afford it either – but at least the new iMac provides performance to match its good looks at last. ®
More Apple Reviews

Mac Mini
MacBook
MacBook Pro 15in
iPhone 4
Sponsored: Detecting cyber attacks as a small to medium business

Apple iMac 21.5in 2010
Entry-level all-in-one desktop Mac with refreshed CPU and GPU.