It had to happen: the grotesque Mr Creosote from Monty Python's Meaning of Life has inspired a new 'waffer' thin mint.
Styled as "perfect for when you can't eat another thing", the slim, mint-filled chocolate confection may not cause your strained stomach to detonate in a blast of half-digested dinner, but you can have a chuckle as you recollect the hilarious movie sketch.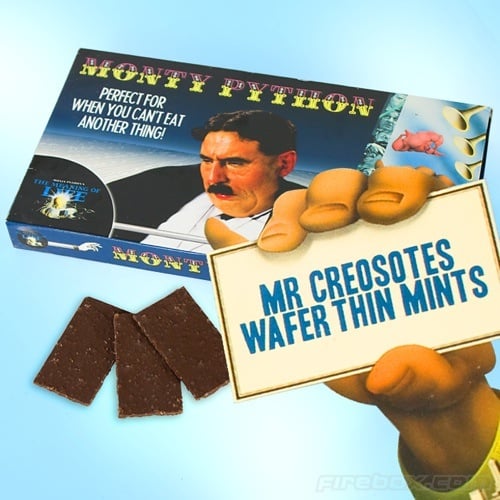 But the real laugh will be on you, for splashing out eight quid on a box of these cash-in chocs, of which there are just 36 in the box. That's 22p a pop - rather more than the 7.4p Tesco, for one, wants for each of its "luxurious Belgian milk chocolate squares".
It'll be the Pythons 'minting it' when their fans splash out on a box or three of these.
The pricey Python mints are available now from Firebox.com. ®
Sponsored: How to simplify data protection on Amazon Web Services