Symantec knits VMware safety net
Virtualise biz-crit apps with confidence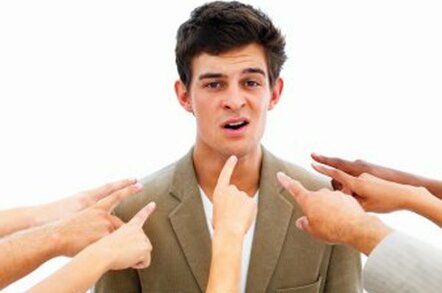 Symantec says you will be able to virtualise the most critical business applications with confidence because it's providing the necessary safety net, Application HA. It's also sorted the virtual desktop image provisioning and storage problem with VirtualStore.
The pitch is that there is a last mile problem in virtualising applications: the really critical apps aren't getting virtualised because there is no proper safeguard against an app failing inside a virtual machine (VM). Symantec points out that VMware HA (High Availability) only works for physical server failures.
Symantec will add the missing link - protection against failure inside a virtual machine - in September with Application HA. It says the software has been developed with VMware, listing as evidence of the partnership things like joint customer research, design and mockup reviews, weekly post-mortems and engineering sync-ups and beta testing at both VMware and its own internal IT sites.
The coming product is integrated into vCenter and Symantec's own management tools and is based on Veritas Cluster Server technology.
VirtualStore
VirtualStore aims to provide deduplicated VM storage, better Virtual Desktop Image I/O performance and faster VM provisioning. It provides the best storage array controller VM and VDI storage, protection and provisioning facilities but inside a Symantec application, VirtualStore, running on a server and working with both intelligent enterprise arrays and commodity storage.
VirtualStore is based on Veritas Storage Foundation technology, and provides thin provisioning - not wasting space by pre-allocating all the storage for applications before it is needed - and storage tiering as well as snapshot protection. It has a 'FileSnap' feature that lets administrators "clone and provision 1000s of virtual machines in minutes through its VMware vCenter Server integration". A page caching feature is claimed to eliminate "performance bottlenecks created when multiple users boot up their virtual machines".
VirtualStore is integrated with vCenter, of course, and we assume VirtualStore can run inside a VM as well as on a dedicated server. It is a clusterable, scale-out NAS product running on Solaris or Red Hat Linux that works with back-end storage from 3PAR, EMC, Fujitsu, IBM, HDS, HP, LSI and NetApp.
This reminds us of Symantec's FileStore, which is also a clusterable NAS head sitting in front of storage arrays and providing scale-out NAS facilities. VirtualStore seems to be an extension of FileStore tailored to the VMware world. We'll probably see a Hyper-V version in 2011.
Symantec's Application HA will be launched at VMworld 2010 in September, with a list price of $350 per VM. Virtual Store comes in the fourth quarter of this year and should have a per-server pricing model. Both products support Windows, VMware and Linux. ®