Archos 7 Android tablet
The poor man's iPad?
Review Despite the iPad being upon us and plenty of Windows 7 and Android tablets on the horizon – not to mention whatever HP's tablet plans are for webOS – the question: "What's a tablet for?" remains a question without a definitive answer.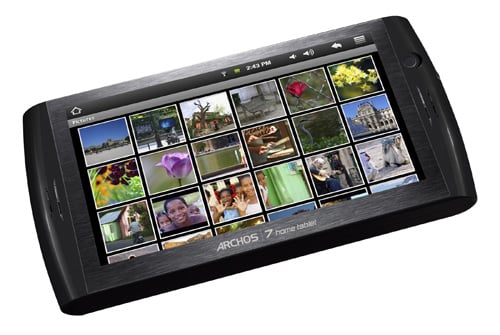 A touch of PC and PMP: Archos' 7 Home Tablet
Archos presumably thinks basic home web connectivity and media playback is the answer, as these are the main pitches of its new 7 and 8 Home Tablets – the French PMP maker's latest attempt at desktop-cum-handheld connected gadgets, after the disappointing Archos 9 tablet.
Like the Archos 9, the 7 has a fold out leg to prop it up but, thankfully, this time the leg doesn't fold up and collapse if you nudge the device to the right. The slightly curved ends of the device make it comfortable to hold with both hands and at 388g single-handed use isn't a worry either.
The 7 eschews the 9's HDD for a choice of 2GB or 8GB flash storage, with MicroSD expansion good for another 32GB. That said, currently, the 2GB version doesn't appear to be available in the UK. Usefully, the various media menus aggregate the contents of both on and off board storage.
Dominating the front of the 7 is a resistive 16 million colour 800 x 480 7in LCD screen with a matt finish. Archos has a tradition of quality displays and the 7 Home Tablet doesn't disappoint; it's crisp, bright and colourful although the viewing angle is not exactly robust in the vertical plane.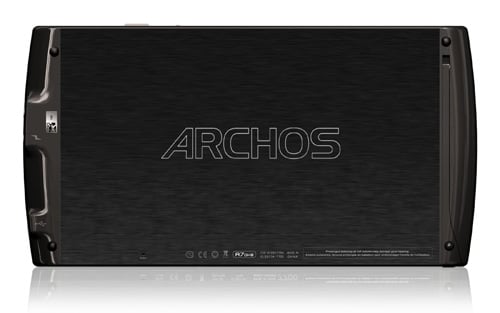 Built-in camera and mic for compatible apps
The touch screen UI isn't on the same planet as the iPad's in terms of speed or fluidity but it does the job reasonably well with taps and drags registering first time most of the time. Multi-touch is wholly absent, but the on-screen navigation and zoom controls don't make this a significant failing.