Panasonic DMR-XW380 Freeview HD DVR
HDD and DVD-R combo with DLNA sharing
Review Unlike the current wave of Freeview HD recorders coming on stream right now, the Panasonic DMR-XW380 is not just a twin tuner hard drive recorder, but a DVD recorder too. Pay a fair bit extra and you can have opt for DMR-BW880, the Blu-ray version Reg Hardware reviewed recently.

Good all-rounder? Panasonic's DMR-XW380
There's an odd quirk you notice as soon as you start using the device – the disc tray is on the left, with the power button immediately above it, and the eject button is all the way over on the right. It's the same with the Panasonic DMR-XS350 Freesat recorder that I reviewed last year.
Along the bottom of the front panel is a flap that covers the DV input, USB connector, an SD card slot, analogue video inputs, and basic transport controls. The rear offers HDMI out, two Scarts, Ethernet, optical audio, and the aerial input and output connectors, while there's a 250GB hard drive inside.
In terms of watching Freeview HD, the DMR-XW380 provides a great picture, and upscales SD channels well too. But those expecting surround sound will be disappointed, as there's no transcoding from the AAC format used by the broadcasters to Dolby Digital.
The EPG suffers from the use of GuidePlus, which means an advert takes up far too much space on the screen – don't get me started. On the positive side, there are two different views – all channels or one channel with a list – and you can also search by genre or programme name, which makes it easy to set recordings.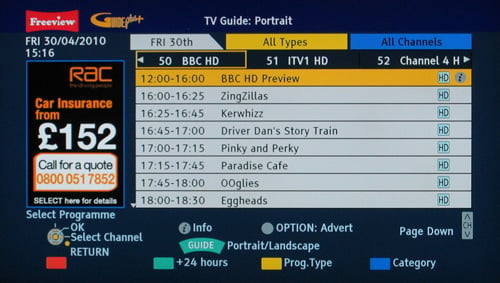 As well as adverts, there's a portrait EPG view too
There's also a neat touch in the library of recorded material; as well as automatically creating a folder for each series you're recording, tabs along the top provide additional views for 'Not viewed', Movies, Drama, Sport, and AVCHD material from your camcorder. The middle three are based on the broadcast genre information.
Sponsored: Minds Mastering Machines - Call for papers now open