MS Office for Mac 2011 out in October
RRPs shaved
Word up. Microsoft Office for Mac 2011 is available at the end of October and consumer prices are cut to bring them closer to its Windows sister.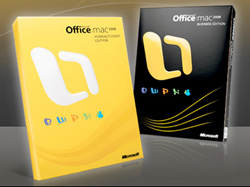 Buy Office 2008 for Mac between now and the launch and you qualify for a free upgrade when the new version hits the shelves.
Retail customers are given the choice of two versions:
MS Office for Mac Home and Student 2011, which includes Word, PowerPoint, Excel and Messenger, will retail at an estimated £90. For a Family Pack, which includes two additional installs, expect to pay an extra £20.
MS Office for Mac Home and Business 2011, which includes those mentioned above and Outlook for Mac, costs £190 for a single install. It's £50 more for a Multi-Pack, which gives customers one additional install.
Office 2011 includes an updated user interface that claims to make tasks easier, while compatibility has been improved with extensive development of Outlook. This has to be better than Entourage, the crash-happy Outlook imitation, currently bundled with Mac-flavoured Office.
A fresh co-authoring tool improves working together on projects, eliminating the need for multiple files and giving users greater ability to work together, regardless of their location or platform used.
Available in 13 languages, including two new packs, Polish and Russian, the software is available late October in more than 100 countries. A complete list of country-specific availability will be released then. ®