Dell outsourcer lifts US woman's saucy pix from PC
Adding that personal xxx touch to remote access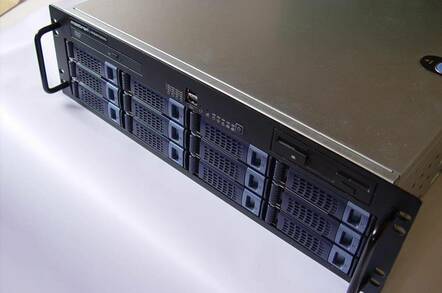 Updated An extremely naive American woman who contacted Dell's tech support helpline reportedly got more than she bargained for, after some very personal photos were swiped from her computer.
News10 reported last week that Sacramento, California resident Tara Fitzgerald, 48, had allowed Riyaz Shaikh - an employee of Sitel India, which has an outsourcing contract with Dell - to access her PC remotely.
She had contacted Shaikh in December 2008 because Fitzgerald was unable to locate some naked photographs of her that had been stored on her hard drive.
"I couldn't find them on my computer and that made me nervous. I didn't know where they went," she told News10.
She asked Mumbai, India-based Shaikh to track down the saucy pictures by naively allowing him to take control of the computer and browse her personal messages and files.
She watched the outsourcer as he discovered the naked photos in attached emails Fitzgerald had sent to her boyfriend.
"I watched him take the pictures out of my email. I watched him," she exclaimed.
By January 2009 a site - named "bitchtara" - was allegedly created that featured 16 nude and semi-nude pictures of Fitzgerald. According to News10 the website was still active as of last Wednesday (28 July).
Then, even more bizarrely, Fitzgerald contacted Shaikh to confront him about the website only to be foolishly talked into buying the Dell tech support man a laptop, shipped from Sacramento to Mumbai, for him to work on her "case" from home.
On 20 January 2009 she stumped up $195 to get the laptop sent out to Shaikh by air the following day.
"My conscience is talking to me, saying 'Tara, don't send this. Are you crazy?' I sent it anyway," she said.
The story continued to get even more bizarre, with Fitzgerald admitting that she exchanged personal emails and phone messages with Shaikh that eventually got more intimate.
"He's very charming and he knew exactly what to say. It warmed my heart," she told News10.
By February last year Fitzgerald discovered that two purchases totalling $802 had been charged to her Dell credit card.
She contacted the computer maker and it confirmed that the transactions for a computer and router had been sent to a woman in Waynesboro, Tennessee.
On Valentine's Day last year Shaikh confessed to Fitzgerald that he had "fallen in love" with a 22-year-old woman in Tennessee.
A month later he wrote to Fitzgerald proclaiming:
"ur my True friend Tara… I am sorry Accidently I charged ur Dell Account but I will pay. I don't want to loose my job. It was a mistake which happened with me and I am screwed."
Fitzgerald told News10 that she then contacted Dell to tell them about the fraudulent charge made on her card. She claimed the company sent her an affidavit allowing her to disavow the unauthorised charges. Fitzgerald declined to sign it.
"They haven't done anything. I'm upset about that," she said.
Last Thursday Dell told News10 that it had investigated the claim.
"We contacted the vendor [Sitel India] about the allegation and can confirm that the representative no longer handles Dell calls. We've been in contact with Ms Fitzgerald regarding this issue and continue to investigate her claims to best assist in a resolution."
The Register asked Dell to comment on this story, but at time of writing it hadn't got back to us with a statement. It's not clear if Shaikh still works for Sitel. ®
Update
Dell got in touch and gave us this full statement:
Thank you for your enquiry. Meeting our customers' needs and delivering quality customer service is our primary goal at Dell. Our service is based on a foundation of personal and professional integrity, and at Dell, we never compromise these standards.


When Ms. Fitzgerald contacted Dell about this incident last year, we investigated the issue, which involved a technical representative at one of Dell's vendors. We contacted the vendor about the allegation, and can confirm that the representative no longer handles Dell calls.


We were in contact with Ms. Fitzgerald last year regarding this issue, and we have reached out to her in the last week, and look forward to hearing from her so we can resolve this issue to her satisfaction.
Meanwhile, it turns out that Dell's tech support wing has got previous on these kind of lurid shenanigans.
In December last year a DellConnect IT specialist was accused of intercontinental sexual hi-jinx for remotely flashing a woman client with a nude photo - of herself. We have the full blow-by-blow coverage of that particular story here.