Carphone Warehouse unveils music locker that isn't
Orb-like cloud music service
Updated Carphone Warehouse will finally launch its much-touted music service tomorrow. It will allow you to listen to your music anywhere, as well as dipping into a catalog of six million tracks. Carphone Warehouse has promoted the service via its MyHub portal for a while, and an iPhone app for it leaked out three weeks ago.
It's an implementation of something called Play Anywhere by Israeli startup Catch Media, which was rumoured to be a Google acquisition earlier this year. (Google appears to have gone ahead and built its own Orb-like place-shifting software by itself.) Unlike Orb, which does adaptive transcoding on the PC hosting your music collection, the Catch service takes a fingerprint of each song, IDs it, then streams a version from a licensed music library. Or tries to.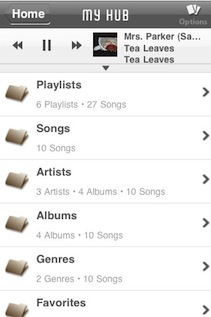 Carphone Warehouse's MyHub iPhone app
pic: MusicAlly
Sony's music chief Thomas Hesse hailed it as a "legitimate locker service model". We're not sure why, since it's not a locker at all. Carphone Warehouse's early promo blurb promised that "Its [sic] clever technology means you don't have to re-upload all your tracks, so you don't have to worry about how many gigabytes storage your music collection takes up".
So if your house burns down you can't retrieve anything from the locker. CatchMedia's UK chief begs to differ.
"We can replace all your music - all your songs," he told us. "We don't use it as a unique selling point, but it is there; we read all your metadata and we fingerprint it, and register it in our system. So if your house burns down while you're a member, you can then access your device and we can then give you your music."
All four majors have signed up and we're told that independent label representative Merlin "has a deal in place with Catch Media, though the repertoire is not yet available on the service". It goes on sale tomorrow for £29.99. ®