Microsoft Street Slide: Street View done properly
Take a peep
Leaving aside the creepy privacy aspects, Street View is one of Google's most valuable services. The ability to familiarise yourself with somewhere strange, before you arrive, is genuinely useful.
Or rather, it is in theory. Unfortunately, unless you've got extremely lucky, Street View typically fails to plonk you down right where you want to be. Then you have to use the controls, a really tedious hit-and-miss-affair, and you end up wishing you hadn't.
For such a rich trove of information to be presented with such a clunky UI is strange and frustrating, and very un-Googley. Happily, at SIGGRAPH this week Microsoft Research presented a new form of presenting street view imagery, and it's well worth a look.
The "Street Slide" project presents seamless, uninterrupted perspectives as you navigate. Here's what it looks like in action:
The researchers have combined two approaches - the "bubble" view which simulates a panorama from a fixed viewpoint (the approach used today at Google and Microsoft) with multiperspective "strip panoramas", which give more information but lack the sense that you're moving alone.
"Our strip panoramas are created by aligning and overlaying perspective projections of the bubble images oriented towards the street side. Dynamically altering the alignment and visible portions of each image simulates a pseudo-perspective view of the streetside from a distance. Moving along the street thus gives a strong sense of parallax and enhances the sense of immersion."
Since it uses rendering, it uses more GPU time, but it's a much more satisfactory experience.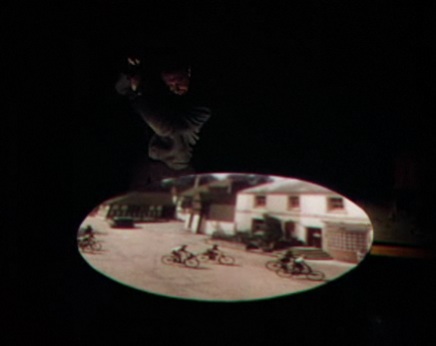 "Aah, the start of the cycling season"
It reminded me of the famous camera obscura sequence in the movie A Matter of Life and Death, where the village doctor spies on the community - which you can see here or read about here. ®