Sony Walkman NWZ-A845 media player
Thinnest Walkman yet
The last is something Cowon's PMPs have been doing for a while but Sony has added some funky floating 3D slide show effects that also come into play when you navigate through your albums using its answer to Cover Flow.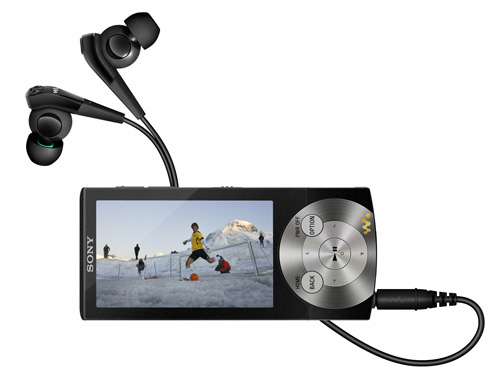 Hi-res BBC iPlayer content is supported
I'd have been shocked to the core if the A845 sounded anything less than excellent and happily I wasn't. Coupled with my reference Sennheiser earphones, the sound was firm, punchy and very well balanced. There was also a lovely sense of clarity and space in the upper ranges which puts the A845 right up with the very best personal music players I have used.
Sony has gone the whole hog with sound modification, equipping the 845 with Clear Stereo, VTP Surround Sound, DSEE Sound Enhancement, a five band equalizer and S-Master Digital Amplifier technology which all sounds most impressive both figuratively and in use.
The A845 also has another couple of tricks up its sleeve. Firstly the bundled earphones are not only comfortable but also musically very competent. Secondly it has built-in adjustable active noise cancellation which, apparently, can cut out up to 98 per cent of background noise. I'm not sure I'd go as far as 98 per cent, but it does make one heck of a difference when used in a train, plane or automobile.
In the box, you will also find an adapter cable that lets you connect any sound source with a 3.5mm audio jack to the A845s proprietary USB port, as a line-in feed. This means you can continue to enjoy the noise cancellation feature when, for instance, hooked up to the AV suite on an airliner using the also supplied airline adapter. That's a nice idea.