Toshiba Australia boss waves tablet around
Beaut
And now Toshiba's in on the act. Yes, the Japanese laptop pioneer has an iPad-style tablet in the works, set to debut in a few months' time and running Android and/or Windows 7.
Toshiba this week took the wraps off its new Portégé R700 skinny laptop, its Libretto M100 dual-screen netbook and the AC100 Arm-based 'smartbook' in Australia.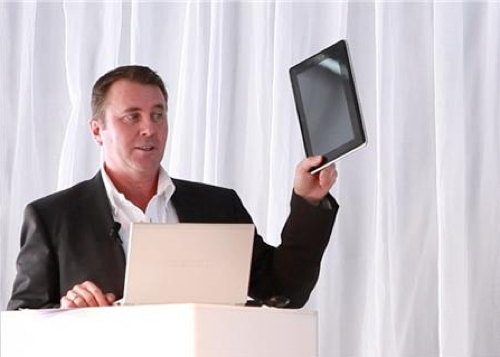 iSpirations: Toshiba tablet and friend
Source: Australian PC Authority
We've seen them all before - Toshiba showed them off in London last month. We wrote up our experiences with the AC100 here, and the W100 here.
What the Poms didn't see is a "prototype" tablet - 10in by the look of it - as waved around by Toshiba Australia Managing Director Mark Whittard and snapped by local mag Australian PC Authority.
Whittard didn't provide details - "No specs please, we're Australian" - but he did say they will come in Android and Windows 7 flavours. The first ones will be out - Down Under, presumably - in the "September-October timeframe", says the magazine.
Ripper. ®