'Howling lesbian gangs' greet jailed Lindsay Lohan
'Terrifying' first night for bespeckled thespiatrix
Bespeckled thespiatrix jailbird Lindsay Lohan probably won't survive the estimated 23 days she'll spend in chokey, if the Sun is to be believed.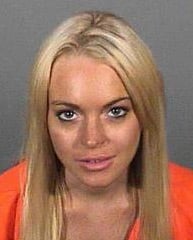 Lohan was greeted yesterday at the Century Regional Detention Facility in Lynwood, California, by "the screams of lesbian gangs desperate to get a piece of her".
An "insider" said: "A lot of women are very excited by Lindsay's arrival. They were gathering to get a look or even more. There's already a competition about who can be first to make her cry. Whoever does will really make a name for themselves."
Lohan's "first terrifying night behind bars" for violating her 2007 drink-drive probation began in "a filthy five-person holding cell" where she was "stripped naked* and subjected to a full cavity search to check for concealed weapons and drugs".
She was then led to her cell in the prison's segregation unit, where she enjoyed a "grim" first taste of life inside in the form of "turkey, served with apple sauce, broccoli and coleslaw, with a glass of milk".
If the diet doesn't kill Lohan, life in the segregation unit seemingly will. In it are caged some of the prison's most serious offenders, ruled by the hardest screws.
Tamara Haley, banged up for prostitution and heroin possession, said: "She's going to get roughed up by the guards. Everyone will want a piece of her and, if a guard is extra evil, he may leave a cell door unlocked, if you know what I mean."
In the unlikely event that Lohan exits the detention facility in one piece, she's looking to trouser $1m in book and TV deals. That's dependent on how she handles her hard time, as a "pal" explained: "If she wants to cash in afterwards as a bad girl turned good, she will have to be seen accepting her punishment, not complaining like a pampered rich girl."
Accordingly, we suggest Lohan swallow her turkey and apple sauce with a smile, and refrain from complaining about the doubtless overcooked broccoli.
The Sun has more entertaining truthy prose on Lohan's incarceration right here. ®
Bootnote
* The drooling masses won't have to wait long to get a piece of this action. Lohan will reportedly being going full-frontal for Linda Lovelace biopic Inferno. In this case, it really is a matter of "if the story demands it".
Sponsored: Detecting cyber attacks as a small to medium business