NASA's WISE eyes skies
Wraps first complete heavenly survey
NASA's Wide-field Infrared Survey Explorer (WISE) has completed its first survey of the entire sky, having spent six months snapping over one million images of the heavens.
Edward Wright, the principal mission investigator at the University of California, enthused: "Like a globe-trotting shutterbug, WISE has completed a world tour with 1.3 million slides covering the whole sky."
To celebrate the event, NASA has released a fine picture of the Pleiades star cluster - actually a photo mosaic made up of "a few hundred image frames":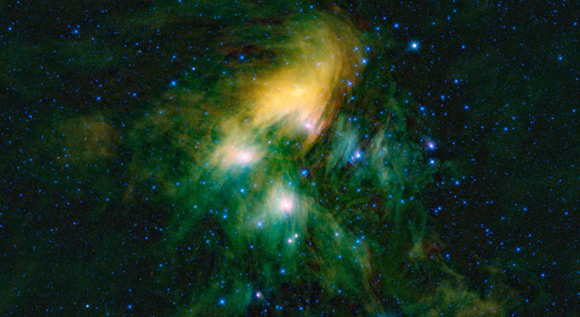 The agency explains: "Color is representational: blue and cyan represent infrared light at wavelengths of 3.4 and 4.6 microns, which is dominated by light from stars. Green and red represent light at 12 and 22 microns, which is mostly light from warm dust."
Operating at an altitude of 525km, WISE passes over the poles 15 times a day taking a picture every 11 seconds through its 40-cm (16-inch) telescope. To date, it has captured over 100,000 asteroids, including more than 90 new near-Earth objects.
It's also peered at distant luminous galaxies and brown dwarfs, and will continue its mission until around October this year, when the hydrogen keeping its instruments nicely chilled finally evaporates away.
You can find more on WISE down at the University of Califonia here, or at NASA, right here. ®