Our Vulture 1 aircraft begins to take shape
Fuselage assembly snaps for your viewing pleasure
Here's the thing pretty well done, posing with the APRS/GPS telemetry transmitter: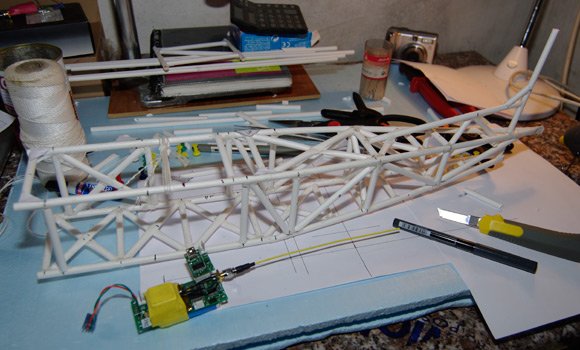 Some of you are probably wondering why there's a big hole at the front of the fuselage's port side, so we'll explain with the help of this snap: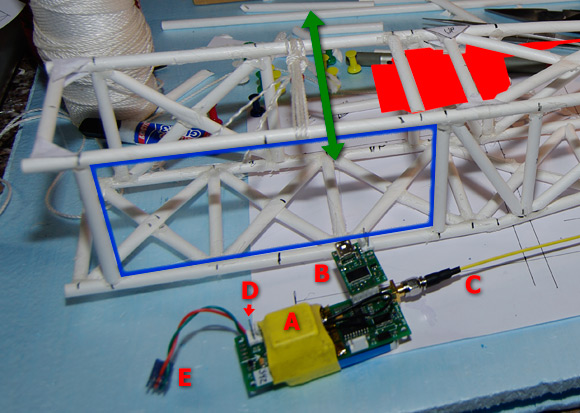 Here you can see the temporary void, marked in blue, through which we'll be inserting the Vulture 1-X tracking payload. This has proved a bit of design headache, since the main wing spar will pass as indicated by the green arrow.
The red silhouette shows the eventual position of the APRS/GPS unit inside the fuselage. It'll be encased in a styrofoam block, with the top of the GPS chip (A) exposed and facing up. The aerial (C) passes aft.
Simple enough, but we need access to both the data connection board (B) and the three-pin connector (D) into which the battery lead (E) is plugged immediately prior to flight.
The data connection board's USB socket will be accessible through the fuselage's starboard side, while the battery connector will sit just aft of the wing spar. Accordingly, a small hatch in the roof will let us get at it.
The onboard miniature camera and cockpit will be fore of the wing spar, and we've left the nose off for the time being to allow us to fit those easily.
Finally, here's the whole fuselage with reinforcing brackets in place. We just need to clean up the excess glue and the job's a good 'un: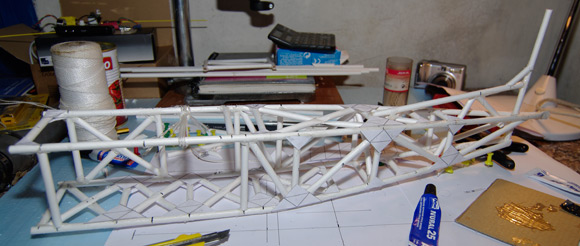 For the record, this section is 54cm long and weighs just 57 grams, although it's still lacking its external skin. Just how to skin the aircraft is our next major challenge, and we'll ponder that while lovingly teasing the APRS/GPS unit into place. More soon. ®
Additional PARIS resources
Our dedicated PARIS section, with all previous updates, is right here.
New to PARIS? We have a basic mission summary here (pdf).
Our fledgling Flickr page, with all previous photos.
Check out our YouTube channel - currently featuring a few camera tests.