Teufel System 5 home cinema speakers
Sound choice for movie buffs?
Review Last year Berlin-based manufacturer Teufel produced what it called "the first surround sound speaker set to be certified to THX's stringent THX Select2 standards" with the clue's-in-the-name moniker of the System 5 THX Select2. The product was able to match its specs to THX's criteria by using two subwoofers and three-way surrounds, which is probably a little excessive for most UK living rooms.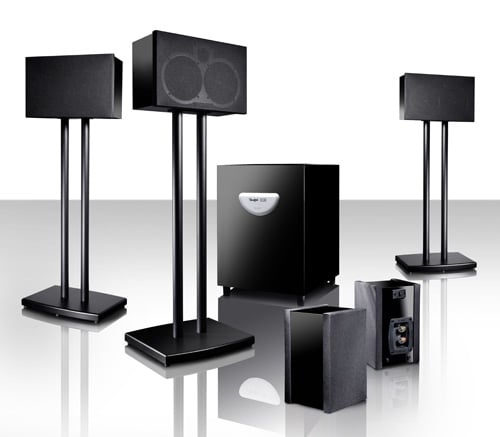 Components from Teufel's THX Select2 products make up the System 5
Now Teufel has brought out a trimmed-down version, simply called the System 5. It has the same front and centre speakers, but with just a single sub, smaller surrounds and a lower price. No, it doesn't reach the George Lucas-founded THX's exacting paper spec standards for cinema-grade surround sound reproduction, but then again, that's not necessarily something the average living room is likely to do justice to anyway, let alone have room for.
While there may be a little less of it, a quick glance at the System 5 gives you the clue that this is a sound-first system that makes little concession towards the so-called SAF (Spouse Approval Factor) which many of today's systems take so seriously.
While other systems make efforts to blend into the background or look so stylishly beautiful that anyone not so audio astute as their buyer can still appreciate them, these Teufels are big ol' cheap-looking (but not cheap-feeling) MDF boxes with sharp corners. While surround setups are always in danger of dominating a room, especially in the matt black livery we trialled, a brown wood-effect wenge timber version is also available that might blend in a bit more with some lounges.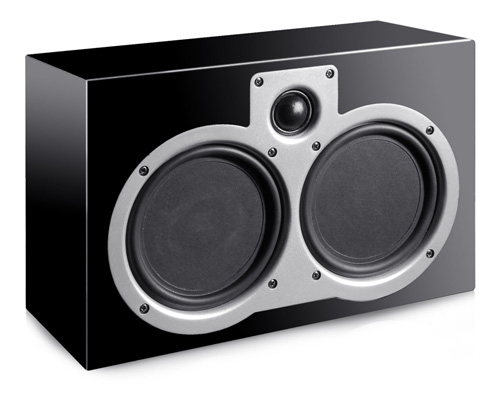 The S500 speakers take on the duties for front and centre output
The System 5 package is considerably cheaper than its fully THX'd brother at £899 (as opposed to £1,349) and despite falling short of THX specs overall, the system still uses the S500 left, right and centre speakers from the THX Select 2 system, along with smaller S50 D dipole surrounds and a single S5000 subwoofer.