Daily Mail promotes 'the new Betamax'
Poles and Punjabis penetrate Middle England
Splendid news at last for digital radio. Associated Newspapers is throwing the weight of the mighty Daily Mail behind the beleaguered DAB platform. Tomorrow, every Mail reader will be able to claim a free DAB radio.
But hang on. Isn't this the same paper that was the first to make the comparison between DAB and BetaMax? Well before us...
Actually, yes.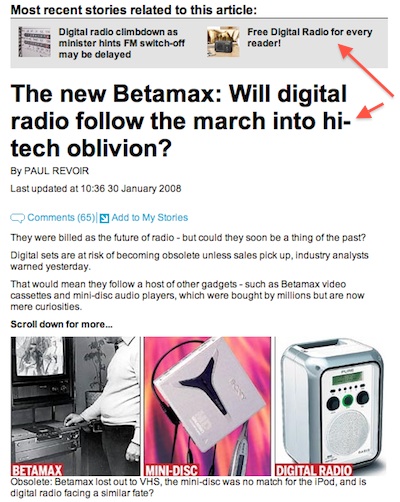 Oops
In 2008 the Mail reported that DAB was in danger of following technologies "such as Betamax video cassettes and mini-disc audio players, which were bought by millions but are now mere curiosities".
Which was quite prescient, really.
Still, chin up Middle England - the Mail promises readers will "discover a broader range of music, debate and ideas, all in great digital quality sound".
Unfortunately, that's not quite true. With the major commercial operators withdrawing flagship stations because of poor listenership and high carriage costs… about all that's left on DAB is radio stations for immigrants.
As someone (we forget who) might say: You couldn't make it up. ®