New Jersey car prang woman blames carjacking
Oh alright then - I was having sex when I hit the tree
A New Jersey woman pulled out a couple of nice excuses after she wrapped her car around a tree - first claiming the mishap was provoked by a carjacking, then that she'd actually been distracted while performing a "sex act"* on some bloke she'd picked up.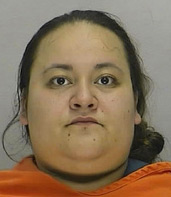 According to AP, 23-year-old Sarah Blasse (pictured), of Vineland, tried her carjacking yarn on cops following Saturday's crash. They were evidently unconvinced, since she later deployed the sex act story.
However, Camden County prosecutor's spokesman Jason Laughlin clarified that Blasse came a cropper while she and her boyfriend were fleeing pursuing police after they'd swiped a laptop from another car.
Having temporarily given squad cars the slip, the pair piled into the tree, then attempted to set the vehicle on fire.
Blasse and 27-year-old Henry Goode Jr now face a rack of charges including "arson, burglary and hindering apprehension". ®
Bootnote
* Assuming Blasse wasn't administering her mystery passenger a quick Gillian Taylforth, then we now have another delightful meaning for the term "carjacking".