Crackdown 2
A short sequel to satisfy shooters?
Review The original Crackdown was something of a surprise hit. It didn't come as a surprise that people bought the game in droves – the inclusion of the Halo 3 Beta key ensured Crackdown was always going to fly from the shelves. What surprised many people is that a solid, enjoyable action game was bundled with the Beta key– and one that quickly gained a dedicated cult fanbase.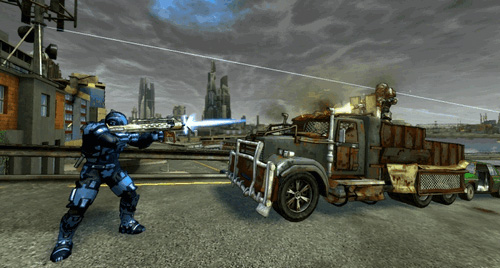 Take this you little trucker!
Crackdown succeeded by being less concerned with telling the player what to do and more with asking what he wanted to do. It was unabashed sandbox, in which prescribed actions were eschewed in favour of player experimentation, where story and mission structure played second fiddle to collectibles and power-ups. And where the absolute star of the show, Pacific City, was an integral focus of the action and game mechanics.
It's no surprise, then, that Ruffian Games has left the basic formula untouched in Crackdown 2. Requiring little refinement to compel a revisit, the digital playground of Pacific City stretches far into the distance, its vibrancy immediately familiar and welcoming. Rooftop races, car races and stunts all return, as do the infamous agility orbs, which, dotted along the rooflines and girders, cranes and radio masts, twinkle with all the allure of virtual cocaine.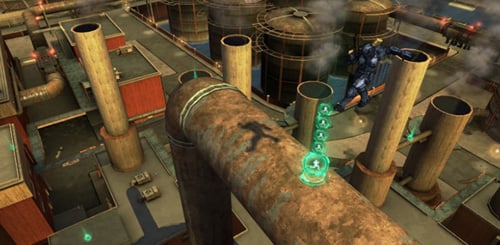 High on the Crackdown pipe