iPhone 4 burns, hurts owner
His hand or his pride?
Some bloke's iPhone 4 has reportedly caught fire.
Well, kind of. What appears to be a duff USB port - whether on the handset or the device it was connected to isn't known, the marks on the cable's connector suggest the former - caused the conflagration which scorched the phone and melted the dock cable's plastic surround.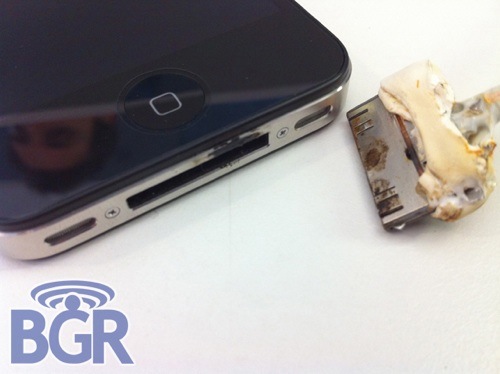 The incident was reported to website Boy Genius Reports - the modesty of the lad - after being sent some snaps by an alleged AT&T store worker.
The mole claims Apple confirmed the source of the problem was the USB port and not the fault of the phone's owner, who apparently suffered a burn - but one not sufficiently serious to stop him or her bringing the still "extremely hot" handset straight round to said AT&T shop.
We don't know, something smells here - and we don't mean the whiff of melting iPhone cable. ®