Ten Essential... iOS Travel Apps
Are we there yet, 'Pad?

Urbanspoon
You could pay £5.99 for the fancy Zagat restaurant guide, but the ad-supported Urbanspoon is free - and a lot more fun too. The app mainly focuses on restaurants in the US, but it covers a number of other cities as well, including London, Birmingham, Sydney and Vancouver. Just give your iPhone a shake and it will pick a nearby restaurant at random. Alternatively, you can browse restaurant listings by price, type of food, and even by specific mealtimes, such as breakfast or lunch. It can filter out franchises and restaurant chains, and also provides ratings and reviews from other Urbanspoon users. There's an iPad version too.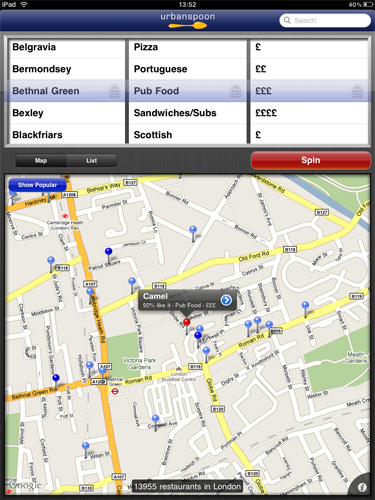 Reg rating 85%
Price Free
Download iTunes
More info Urbanspoon

Yelp
Yelp's got a bit of everything. It uses location services to provide lists of nearby restaurants, hotels, banks, sports and leisure facilities, and just about anything else you might need when you're travelling. It even lists sales and special offers – such as the £5 pancakes at My Old Dutch in Holborn on Mondays. You can browse local maps or use the filter options to narrow your search by price, distance, or user ratings. There's even an augmented reality option that overlays location info on the camera screen, though, to be honest, you get a much clearer idea of locations and distances from looking at the ordinary map view.