Acer Aspire 1825PT 11.6in touchscreen notebook
At last, a Tablet PC done right?
More of a problem, however, is the angle of visibility of the LCD screen itself. While the left-right angle is acceptably wide, the top-down angle remains narrow. This might not have been a problem if it wasn't for the fact that, once swivelled into tablet mode, the computer is likely to be used in portrait orientation. In this mode, even the slightest tilt left and right causes the screen image to turn very dark or very pale.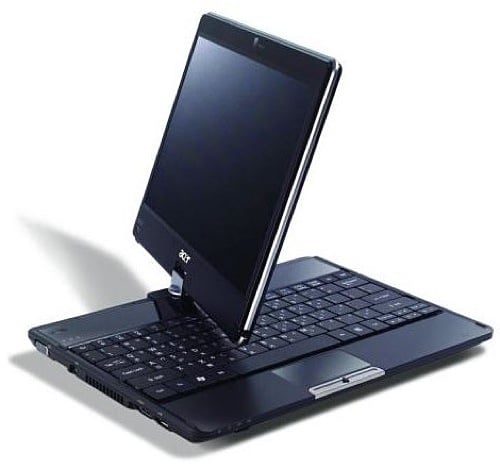 Tilt'n'swivel
That said, since Acer seems to have nailed the left-right angle, you could rotate the screen horizontally around its pivot just a little and use the notebook to deliver close-quarter presentations. Colleagues and customers will feel much more comfortable sitting next to you rather than have to huddle in to your shoulder in order to view the screen.
On that note, the glossy display is bright, beautifully clear and satisfyingly contrasty. Acer should be congratulated on cramming a decent widescreen resolution into such a compact area. The built-in stereo speakers are not particularly loud but they wouldn't need to be.
Despite the compact design of the Aspire 1825PT, it still manages to find space for some essential I/O ports, including external VGA, three USB and - oh joy! - HDMI. Unfortunately, the one thing that's missing is potentially the most annoying in its absence: a CD/DVD drive.