Colombian cops seize cocaine World Cup
11 kilos of Bolivian footballing powder
Colombian cops thwarted a cunning cocaine smuggling plan when they seized a replica of the World Cup fashioned from Bolivian marching powder.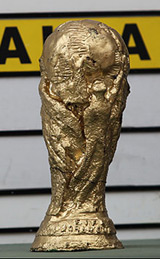 The trophy was detected by security checks at a mail warehouse at Bogota airport, packed in a box destined for an address in Madrid.
The statuette is 35cm high and packing no less than 11kg of cocaine, according to anti-drug chief Colonel Jose Piedrahita.
It had been lovingly crafted from nose Ajax mixed with a moulding agent, probably gasoline, according to the authorities.
The real FIFA World Cup trophy is 36.5cm tall and weighs 6.175 kg, of which five kilos is 18 carat gold. By our reckoning, the raw gold is worth (at this morning's price) somewhere around £120,000.
The charlie World Cup, on the other hand, could earn the owner way over a million quid, depending on the current street price and how he cuts his prize. ®
Sponsored: Detecting cyber attacks as a small to medium business