Sagem boots up Puma phone
Famous sports brand's first handset inbound
Sagem today launched its Puma-branded handset in Europe, lauding not only the mobile's famous sports brand but also its built-in solar panel.
The other side of the handset is home to 2.8in, 320 x 240 touchscreen and 0.3Mp camera for video calls. There's a 3.2Mp camera on the back, alongside said solar panel.
The Puma has GPS on board linked to a series of sports apps, including a tracker, stopwatch and a pedometer.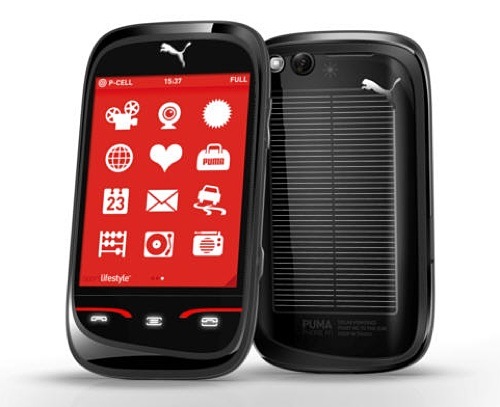 As a phone, the Puma has HSDPA 3G and GSM/Edge connectivity, plus Bluetooth. There's an FM radio and a Micro SD card slot for media storage.
Sagem said the battery is good for five hours' talking, 24 hours' music playback, five hours of video viewing, or 350 hours on stand-by.
And what of the solar charger? An hour of sunshine will give you "one hour and 30 minutes of MP3 play or enough energy to send about 30 text messages" - so more for emergencies rather than regular, green charging then.
The Puma will cost €399 (£327) SIM-free from the Puma Phone website. For now, UK suppliers are not listed, but Sagem insisted that the handset will be coming to Blighty soon.
Demo shots show the handset connected to T-Mobile, but carrier deals have yet to be announced. ®