Daily Mail breaks iPhone 4 recall scoop
Twatted by Twitter
The Daily Mail yesterday reported Apple may recall the iPhone 4. It based the story on "confirmation" from a Steve Jobs Twitter account clearly marked as a spoof.
While Twitter account 'ceoSteveJobs' has over one million followers, reporter Richard Ashmore overlooked a vital piece of information prominently displayed in the account profile: "Of course this is a parody account."
The spoof Steve had Tweeted "We may have to recall the iPhone. This, I did not expect."
The paper has since removed the article without explanation.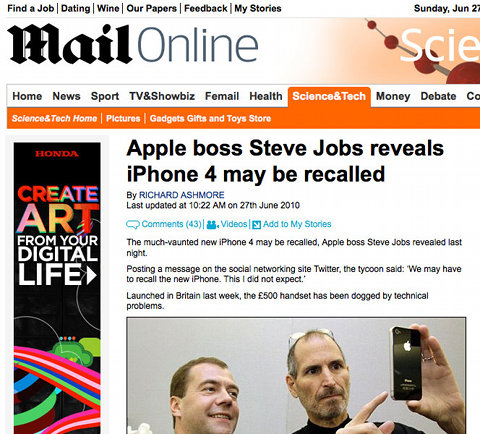 Oops
The gaffe was spotted by NextWeb and the Media Blog, among others.
Pity the poor papers.
When they're not mining Twitter for non-news, they're reprinting Wikipedia entries as fact. When Ronnie Hazlehurst died all but a couple of newspapers and TV channels relayed a bizarre factoid that he'd come out of retirement to record a hit record with S Club 7 – a fact inserted by a prankster. Among the professionals who fell for it were The Guardian, BBC News, the Times and the Independent.
And business guru and WiReD magazine editor-in-chief Chris Anderson showed how its done: large chunks of his book Free were lifted from Wikipedia, blogs, corporate websites and other published sources. ®
Sponsored: Detecting cyber attacks as a small to medium business