Suicide Girls whip out iPhone 4
'Vast improvement' in breast-imaging capability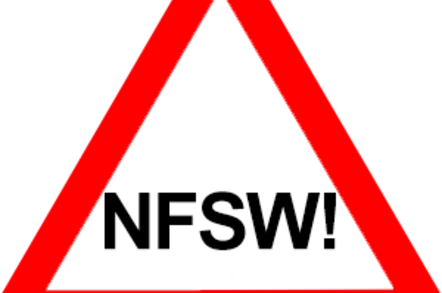 NSFW In an absolutely shameless piece of bandwagon-jumping self promotion, the internet's leading repository of female tattoos and body piercing has taken the latest manifestation of the Jesus Phone out for a spin (link NSFW).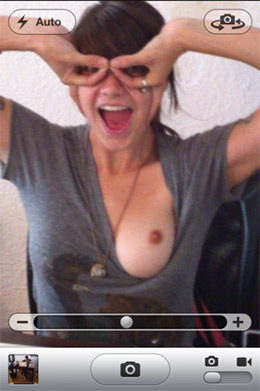 Suicide Girls has put the iPhone's 4's imaging capabilities to the test as is the local custom - by photographing women with their tops off.
The snap seen here apparently demonstrates an "unexpected feature", in that "when you point it at Rambo her boob pops out". We're pretty sure someone has indeed written an app for that, but are surprised it got past the Apple Titfinder General.
The lightweight review continues: "The coolest feature of the new iPhone 4 though has to be FaceTime. You can live video chat with other people who have the iPhone 4. It is like living in The Jetsons."
Suicide Girls' overall conclusion is that "all in all the camera and screen resolution are a vast improvement over the 3Gs".
However, just when Apple might have been thinking it had got away with it, the correspondent notes: "Network coverage is still dicey at best and the steel surround antennae to boost the signal has not proven very effective for me at least."
Oh dear. Some have suggested that sweaty palms and fingers are to blame for the iPhone 4 signal drop phenomenon, in which case you'll probably want to go hands free before checking out the rest of Suicide Girls' test snaps, right here (NSFW). ®
Bootnote
The self-confessed Apple geekettes at Suicide Girls recently launched iPad galleries of their content, although there's apparently no Suicide Girls app for the device in the offing.
The site has already fallen foul of the Cupertino censors, and had its Flip-Strip iPhone app pulled from the Apple store, as Mashable explains.