Engineering students in America have won a NASA competition with their design for a combination aeroplane/helicopter/catamaran rescue craft. Students from Blighty worked on the runner-up design, a quadruple-rotor version of the famous V-22 "Osprey" craft.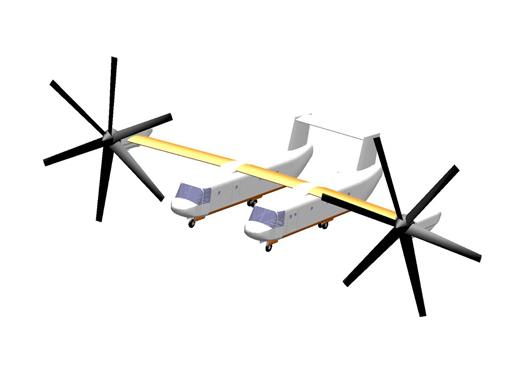 Two hulls are better than one, seemingly
"The designs were creative, innovative and looked at many issues in detail," said NASA bigwig Susan Gorton, of the agency's Subsonic Rotary Wing Project. "Reading the student papers highlighted how many bright young engineers are interested in the future of rotary wing vehicles. I certainly hope some of them decide to work with NASA as a career choice."
The NASA Aeronautics Amphibious Tilt Rotor for Civilian Operations Competition was set up by the space agency's Aeronautics Mission Directorate through its Fundamental Aeronautics Program.
The winning design, dubbed the Rescue Amphibious Firefighting Tiltrotor (RAFT), was developed by 10 engineering students at Virginia Tech. It features two flying-boat style hulls joined by a central wing to form a catamaran for landings on water even in quite rough seas (up to sea state four). Projecting wings on either side carry swivelling nacelles like those of today's V-22, but more powerful and featuring larger propellor/rotor blades.
According to the designers' calculations the RAFT would be able to cruise at 300 knots and offer range of 800 nautical miles on a fill of just over 4½ tonnes of fuel. It could carry up to 50 passengers or approximately 5½ tonnes of water for firefighting purposes, which it could easily scoop up by making a brief touchdown on a handy body of water. The powerful catamaran flying-boat/copter would weigh in at a hefty 28+ tonnes all up.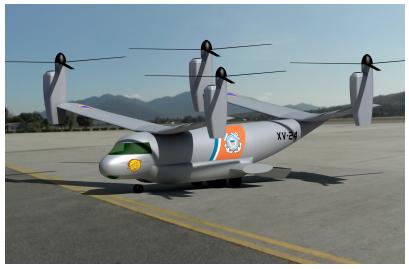 I come to bury Caesar, not to praise him. Well maybe a bit
Runner-up was the Civilian Aid, Emergency Search and Rescue (CAESAR) concept developed by students at Georgia Tech in Atlanta and the University of Liverpool here in Blighty. CAESAR uses a more conventional monohull and thus is judged safe to make water landings only in sea state 3 or less. It features four wings, each with a swivelling tiltrotor nacelle, and so doesn't need such long blades as the RAFT.
In all other respects the CAESAR appears to offer equal potential to the RAFT, but the better rough-sea stat seems to have carried the day. The winners walked away with a $5000 cash prize, and selected students also won paid summer internships at NASA.
The compo for 2010/11 is on a different theme; green aviation. Full details on the Environmentally Responsible (Green) Aviation College Student Challenge can be found here. ®
Sponsored: Webcast: Simplify data protection on AWS