Fans fall in to await iPhone 4 arrival
We speak to the first four in the queue
The wait has begun. With the iPhone 4 going on sale from 8am tomorrow - 24 June - morning, a few early birds have already nestled down in front of Apple UK's flagship store on London's Regent Street.
Canadian Apple fan Alex Lee actually began queueing with his sister at midnight. Facing a 36-hour wait, he claimed that websites and phonelines are set to crash tomorrow and the only way to guarantee his iPhone 4 gets activated will be through Apple directly.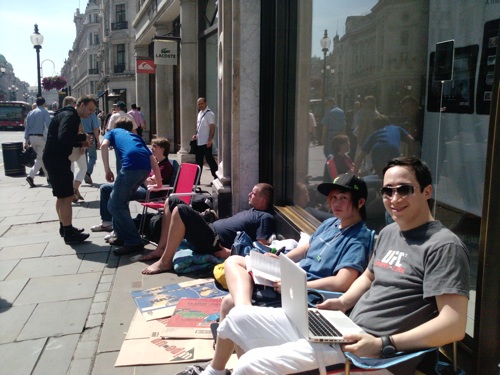 Sebastian enjoys some rare London sunshine - and free Wi-Fi
Along with one for himself, Alex will take another iPhone home to Edmonton to be auctioned for charity. How thoughtful.
Next in line is Alex's chum, Sebastian, the only London resident in the queue so far. He's an iPhone virgin, with recent advertising twisting his arm into taking the plunge. Well, having fanboy friends probably had an influence too...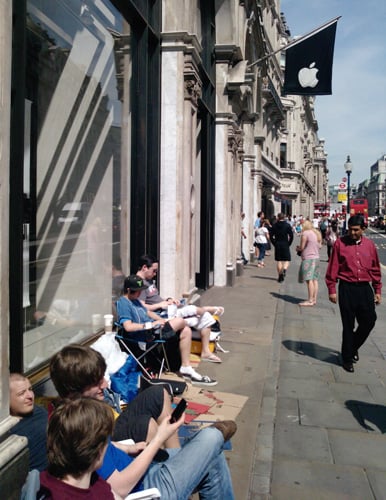 A wait on their mind
Then there's Reiner, a student from Holland. He's been paid to get as many iPhones as he can. After flying in from Amsterdam and sleeping rough in Regents park last night, Reiner finally found the Apple store this morning and joined the line.
He wouldn't give away how much he was earning from his sponsored shopping spree, but with a free trip to London and an iPhone 4 included in the package, I'm sure the majority of us would jump at such an offer.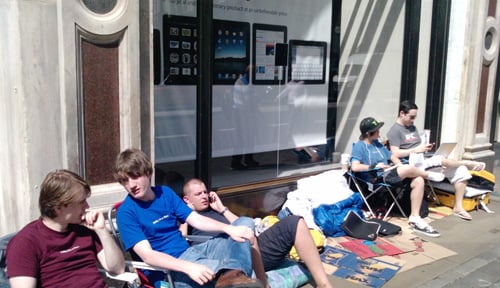 Fruit of the Apple branch
None of the group seemed worried about missing the World Cup. With Apple offering a free Wi-Fi signal, streaming games is not an issue. The general feeling from this bunch is Argentina will go all the way and pip the Brazilians past the post. No hope for England then?
Regardless of results tonight, iPhone 4 sales kick off tomorrow from 8am, although there are rumours that sales will start an hour early to keep in sync with the rest of Europe.
If you're as iPhone-minded as these guys, and are planning to get down to the Apple store on Regents Street to join the queue, let us know. And don't forget the sunscreen... ®
Sponsored: Detecting cyber attacks as a small to medium business