AMD muscles Nvidia with fanless GPU coprocessors
Anything you can do, we can do. Except ECC
Double-wide GPU
Some applications need more graphics memory, and some customers want as much DP number crunching as they can get in each device and are willing to sacrifice two slots in their server to get it. That's what the top-end FireStreams are all about. The FireStream 9370 embedded GPU has all of its 1,600 SIMD engine cores working, runs at 825MHz with a memory clock of 1.15GHz, includes 4 GB of GDDR5 graphics memory, and is rated at 2.64 teraflops SP and 528 gigaflops DP. This is twice the memory and more than twice the performance of the FireStream 9270 it replaces, although it took a lot more heat (225 watts compared to 160 watts) to get there.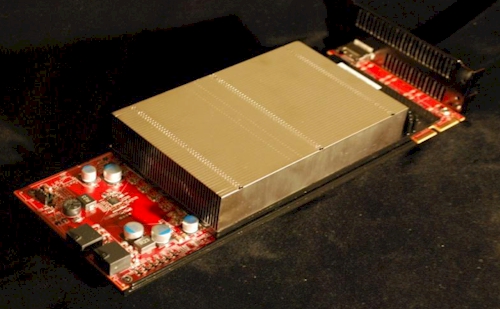 The AMD FireStream 9370 Double-Wide Embedded GPU
The FireStream 9370 costs $1,999, just like the 9270 did, although a little while after the 9270 was out, AMD cut the price to $1,499 to better compete against Nvidia. When you look at double-precision math only, the 9370 is still the better deal by far, at $3,786 per teraflops compared to the original 9370 price (which works out to $8,329 per teraflops) or the reduced price (6,246 per teraflops).
You can see that AMD knows it needs to meet or beat Nvidia's Fermi GPUs for embedded co-processors in HPC servers. Nvidia's M2050 and M2070 GPU coprocessors, which debuted in early May, are rated at 1.03 teraflops SP and 515 gigaflops DP, and throw off the same 225 watts of heat as the top-end FireStream based on the Cypress GPU. Pricing is not available for this unit from Nvidia, so it's hard to make any comparisons on flops-per-buck.
AMD expects the new FireStream embedded GPUs to start shipping in the third quarter, and Patricia Harrell, director of stream computing at the company, says the target is sometime in August. ®