Flash bursts onto Android
Now iPhone users can start missing out
Adobe has launched a final version of Flash 10.1 for Android, so iPhone users can now officially feel left out, though they'll be in good company for a while yet.
Android users running version 2.2 will be able to download Flash 10.1 from the Android Marketplace, but everyone else will have to wait as Adobe is expecting partners to deliver versions for other smartphone platforms.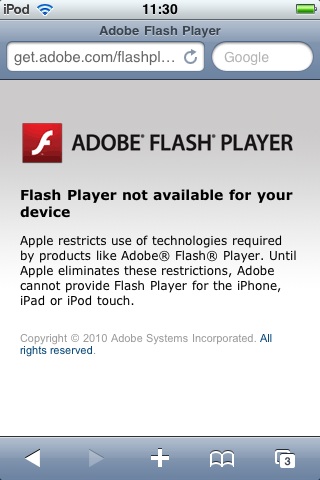 Just in case there was any doubt about who was at fault here
In the announcement Adobe mentioned Palm's WebOS, Symbian, MeeGo, Blackberry, LiMo and even Windows Phone, but Adobe itself has only released an Android version and supplied code to partners in the expectation that they'll either pre-install the client or create a downloadable version for existing handsets.
Handset manufacturers have little incentive to do the latter, but pre-installation is likely. Flash 10.1 has features well suited to mobile use, including the ability to hibernate animations which aren't within the area of a page being displayed, and to pause when a call comes in.
The threat of embedded Flash competing with the plethora of novelty applications populating the iTunes store will ensure that Apple never allows Adobe's technology unrestricted access to iOS devices. The same fears probably apply to Samsung's Bada too (though the company are apparently "in discussions" with Adobe). But no one else has anything to lose by supporting Flash and the rare opportunity to lord it over iPhone users is something everyone can appreciate. ®