iPad beats BlackBerry for browsing
Sofa, so good
Apple's iPad is now generating more web traffic than RIM's BlackBerry in North America, though at least a BlackBerry can do other things too.
One per cent of all web traffic, as measured by Quantcast, is now being generated by iOS-based devices, with a tenth of that being attributed to sofa-surfers fondling their iPads. Android, by way of comparison, can only manage 0.25 per cent though that's still two and a half times what BlackBerry users manage.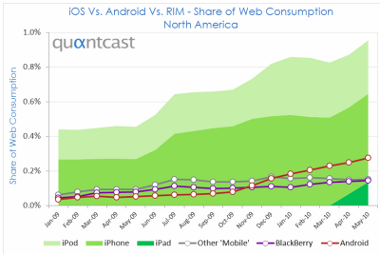 Of course, that might just mean that BlackBerry users are busy checking their email, or that Android users spend all their time playing games rather than browsing websites. Indeed the above chart was only produced under protest by Quantcast, which shies away from comparing the iPad with hand-held devices.
As it becomes more difficult to pigeonhole devices into categories so arguments about what makes a fair comparison will proliferate, but few would argue with the conclusion that the iPad is really, really, good at surfing the web from the sofa. ®