Toshiba Regza 40RV753
Review Toshiba's 40RV753 is one of the less full-featured sets in this group test, really only offering DLNA media playback on top of the basic Freeview HD specs – there's no online TV offering, for example. It feels chunkier than the other sets, too, with a solid plastic casing.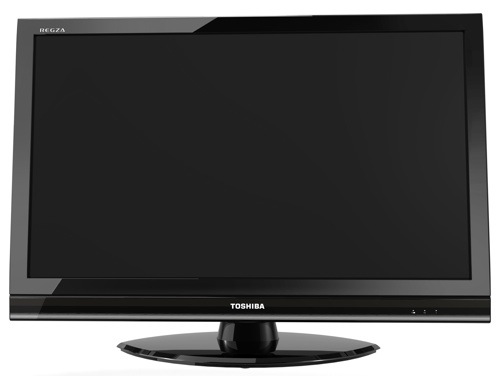 Setup is straightforward, though I initially found the remote a little confusing - you may too. Menus are on the whole simple to use, and there's a good range of detailed picture adjustments available, though the defaults provided a decent picture for both standard definition and HD.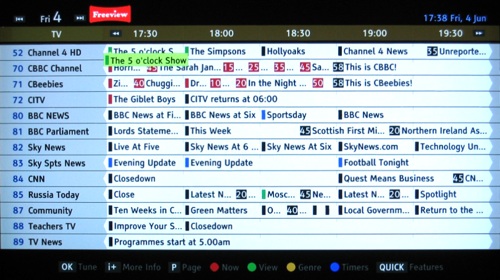 You can change the colours in the Toshiba EPG for different genres
The EPG display is clear, with simple to use genre-views and colour coding – so you can highlight all kids programmes in red, for example. The now/next view will either delight or infuriate - as well as the current channel information, it will tell you "X is starting on channel Y in 3 minutes", in what seems like a fairly random selection. I really don't care what's coming up on the shopping channels.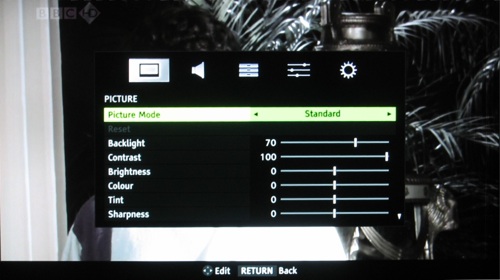 The Toshiba menus look simple, but feel quite clunky in use
Media support is patchy – the only video I could play was MPEG 2, which is pretty limiting - and the browsing interface for photos was confusing and slow. In fact, the whole interface seemed a bit slow, even just changing channels. On the positive side, it did output Dolby Digital from HD channels.
Verdict
A good EPG and reasonable picture make this a straightforward no-frills set, if network functions aren't important to you. ®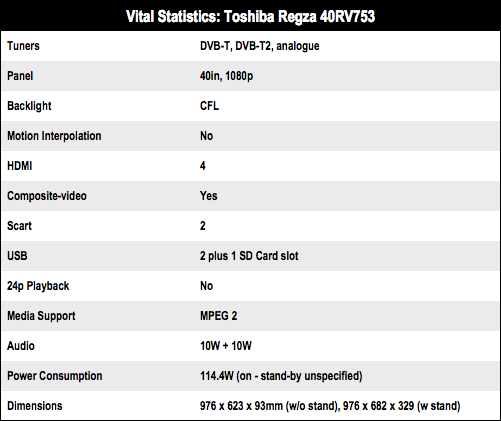 Toshiba Regza 40RV753
A chunky looking, but no-nonsense set.