Sharp Aquos LC-46LE821E
Review Sharp's main selling point for its Quattron-branded range of Aquos TVs is the inclusion of extra, yellow pixels, giving an increased range of colours. The set's also a very modern looking design, and to my taste much more so than the others I've tested.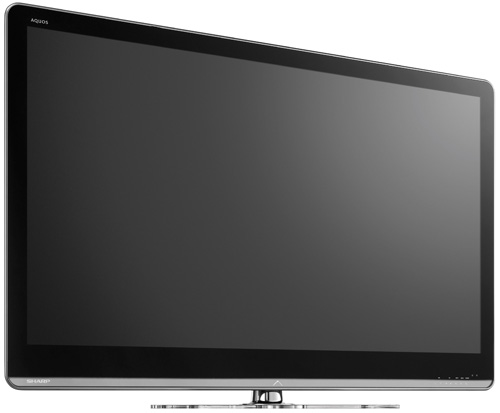 The picture quality from the LED edge-lit display is good, but the default setting for motion interpolation seemed to be making Doctor Who look a little peculiar - turning it down solved the trick.
The menu system is very slick, taking advantage of the screen size by shrinking the picture and displaying settings and information above and to the right. The EPG, though, seemed a bit cramped, with too many lines of information showing. It also proved unnecessarily fiddly to see the programme synopsis, with no info button on the remote control, but you can search by date of genre.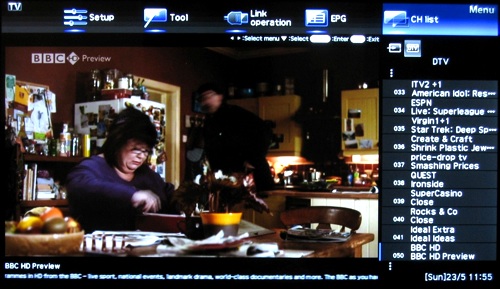 Pop up a menu option, and the picture shrinks
Sharp offers no internet TV or video services, so in terms of media playback you're limited to DLNA, and that covers only music and photos – only the latter of which worked with my Synology Nas box, though to be fair, the review TV didn't seem to have final UK firmware. There is a limited timeshift using internal memory too, but not full-fledged DVR functionality.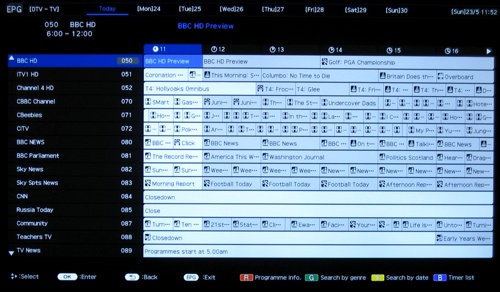 It may be a big screen, but that's just too much EPG to take in at a glance
Also of note is that the set's only Scart connection comes on a supplied adaptor, so if you have lots of legacy equipment, the Sharp isn't for you.
Verdict
Great design and picture, but price and lack of online video lets the Sharp down. ®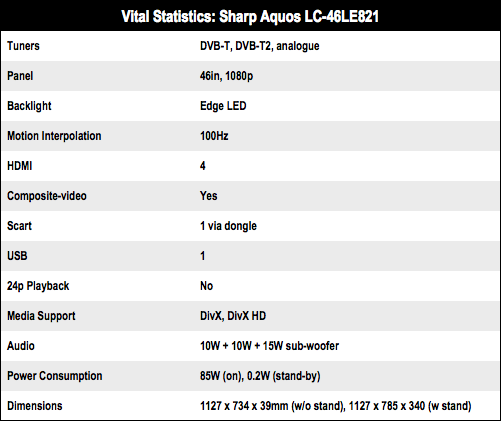 Sharp Aquos LC-46LE821E
A sleek looking telly, with Sharp's innovative four-colour pixel system.