Freeview HD integrated TVs
Six tellies for your World Cup viewing pleasure
Group Test With the launch of Freeview's HD service, there's a slow but steady trickle of products arriving in the shops. Reg Hardware has already looked at a selection of Freeview HD set-top boxes - now it's the turn of TVs with built-in Freeview HD tuners.
If you've recently bought a new television set, then you'll probably be best off choosing a set-top box, or opting for a Freeview HD digital video recorder. But many people have put off buying a new TV because they knew that there would be models arriving that include the DVB-T2 tuner needed to pick up the UK's terrestrial high definition service and wanted a more future-proof set - or wanted HD without having to have a separate box.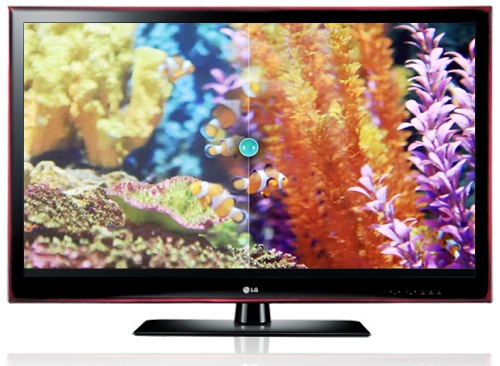 SD vs HD - according to Freeview
Even if HD doesn't appeal to you now, over the next decade it's likely there will be more channels launched using the new technology, so it makes sense to choose a set with it built in – and though it's only standard on some models at the moment, I'd expect that within a couple of years, just about every set will have DVB-T2 tuners.
This year's crop of sets will give you access to all the existing Freeview standard definition services, as well as the three current HD channels: BBC HD, ITV 1 HD and Channel 4 HD. By the end of the year, there will also be BBC One HD too, and a fifth channel is expected to begin broadcasting in 2012. Around half of the UK population has Freeview HD coverage now, and that's increasing as digital switchover progresses. For a rollout timetable, see here.
As with Freeview HD set-top boxes, all Freeview HD sets have to have an Ethernet port and the ability to support IPTV services. Though there are none at present provided as part of Freeview, services like BBC iPlayer and ITV Player may be launched later. The TVs all also provide a Common Interface slot, which can be used for pay TV services, like ESPN and – possibly later this year – Sky Sports.

With all those core features in common, it's in the extras that the bigger differences are found. So, if you're thinking of buying a TV for Freeview HD, what should you be looking for? Before we get down to the sets themselves, let's take a look at the key points you need to know...
Next: Freeview HD TV Buyer's Guide
Freeview HD TVs Group Test
Sponsored: Detecting cyber attacks as a small to medium business