Web2.0rhea eclipses search in UK
National narcissism numbers unveiled
Internet users in the UK are now officially more interested in talking about themselves than they are in learning about their world.
The proof? According to Hitwise, during the month of May more UK web users visited social networking sites than they did search engines — a first.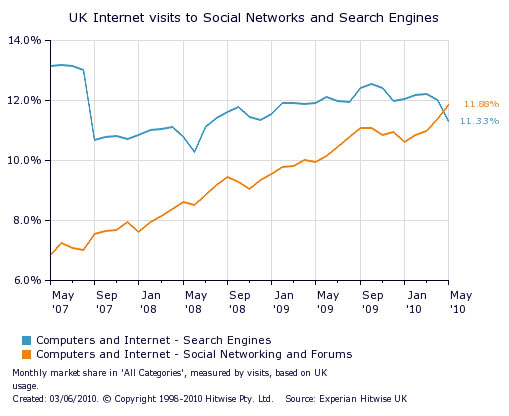 Social networking: an unstoppable juggernaut? (source: Hitwise)
The difference wasn't great — social networking sites garnered 11.88 per cent of UK internet visits in May to search engines' 11.33 per cent — but the slope of the social-networking growth curve show little if any signs of flattening.
Facebook is far and away the most popular of the UK's social-networking sites, according to Hitwise, with 55 per cent of that usage scenario's devotees. YouTube is a distant number two at 16.5 percent, Twitter is a mere blip at 2 per cent, and such other attempts at attracting social-networking eyeballs as Bebo and MySpace barely peep above 1 per cent.
But if Facebook is the 800-pound gorilla of social networking, Google is the 10-tonne Tyrannosaur of search. When you combine Google.co.uk's 87.8 per cent of all UK searches with Google.com's 3.9 per cent, over nine out of every ten May UK searches were Googly. Microsoft's Bing, by the way, attracted a mere 3 per cent of UK search requests.
If you believe that social networking is proof that shallow, indirect relationships are draining the culture of, well, culture, you might take comfort in the fact that without the addition of YouTube visits to the Hitwise's social networking stats, search would still be ahead of social networking in the UK.
But when the argument was made to Robin Goad, the Hitwise UK researcher who compiled the stats, he argued that: "The reason we classify [YouTube] in our Social Networks and Forums category is because it has a lot of social capabilities, such as: the ability to create accounts and upload videos to your account, the vast amount of user generate content on there, the large amount of comments its attracts (plus video responses), the ability to follow other users (not quite friends a la Facebook, but a similar principle)."
And it's not a search engine, he said: "I strongly disagree with the idea that youtube is a search engine. Yes, you can search for things on it and millions of people do, but this is also true or Amazon, eBay, Wikipedia, etc... and most people would not consider them to Search engines."
We believe Goad has a point. And if so, the Hitwise stats stand. We now wait to see if the growth of social networking will continue at its fevered clip, or whether it will soon reach its faddish peak, and fall back below useful tools such as search engines. ®