Panasonic readies monster 3D monitor for sale
152in beast sports 4096 x 2160 resolution
Fancy a 152in, 4K-by-2K 3D plasma TV, anyone? Interested? Then call Panasonic, which will begin taking orders for the beast in July - six months after a prototype panel was demo'd at the Consumer Electronics Show (CES).
Be warned: you'll need a capacious wallet. Panasonic didn't say what it expects to charge for the monster monitor, but since the screen is aimed at "professional use" applications - casinos, corporate lobbies, shops, that kind of thing - don't expect it to be cheap.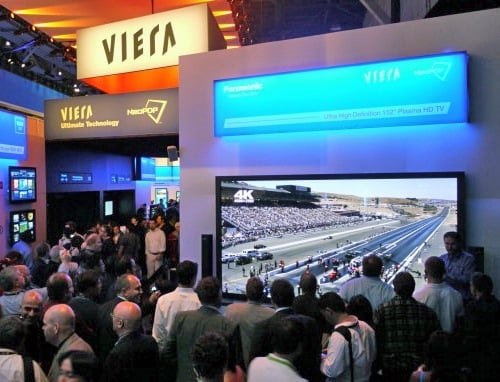 Panasonic's 152in PDP demo'd at CES this year
In addition to that 4096 x 2160 resolution, the 152in PDP has a 5,000,000:1 contrast ratio, Panasonic boasted. The screen does 24p playback too.
The manufacturer will also offer 1920 x 1080 panels at 85in and 103in.
All three will initially be made available to well-heeled buyers in the US and Japan, but Panasonic said they will be offered to purchasers in other countries in due course. ®