Sony BDV-E370 Blu-ray home cinema kit
See no evil, hear no evil
Also, connection to your network is Ethernet only, as there's no onboard Wi-Fi. However, a Wi-Fi adaptor is available as a pricey add-on – around £70. Thankfully, unlike the older E300 that this model replaces, there are now two USB ports, with one conveniently mounted on the front for easy access. Also, you can now hook an iPod up to one of these to play back your media through the system.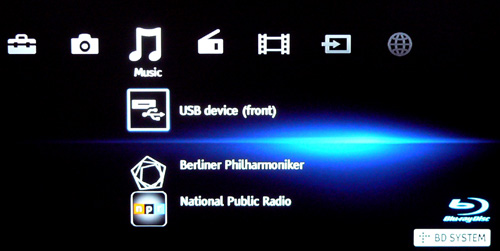 Sony's XMB navigation does the job, but it's not to everyone's taste
As with most of Sony's latest AV kit, the E370 is driven using the Xross Media Bar (XMB) menu system. While opinions vary on XMB, overall, I found it makes the player very quick and easy to navigate around, especially when you're browsing through the supported online video services like Five On Demand and Eurosport, which are neatly presented and work extremely well.
You can also play a range of audio, picture and video file formats including Xvid and MKV video files at resolutions of up to 1080p from either optical discs or drives connected to either of the USB ports. Annoyingly, however, you currently can't stream files across a network, although Sony says a forthcoming software upgrade will deliver DNLA support.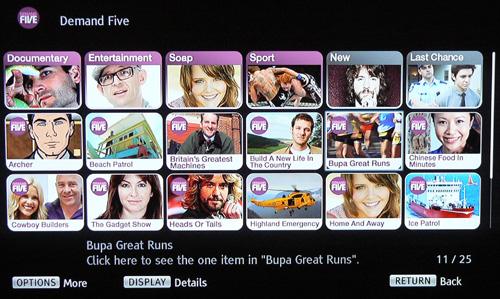 A range of online video services are supported including Eurosport, LoveFilm and Youtube
The BDV-E370 actually has two standby modes, a fast start mode and a standard mode. With fast start enabled the machine draws a hefty 11W in standby, but with it turned off this is reduced to just 0.7W, and while its running at full tilt, it sucks in around 30W, which is pretty much par for the course.
When it comes to actually playing discs the BDV-E370 is an impressive performer. It's quick to startup and load Blu-rays and the pictures it produces are simply gorgeous. It conjures up stunning levels of detail and delivers images with vivid colours and real cinematic punch. It does a great job of upscaling standard definition DVDs too, adding extra sharpness while keeping any nasty artefacts like jaggies in check.