How to organise that World Cup pub crawl
Handy app for catching matches
Looking for a pub to watch the World Cup while drinking beer with your mates?
Plan your pub crawl Footy Pubs 2010 is the latest Nokia and iPhone app to show you where to go. Open the app and get your directions to local pubs showing games.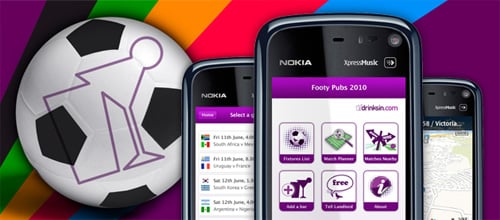 Find a place to surveil a game
Developed by Drinksin, the app works anywhere in the UK, delivering up to date information on matches and even promotions that individual pubs are running.
Almost like a GPS for boozing football fans (it won't help find the way home), the tool features a huge database of pubs, with all the major names involved and independent pubs growing at a fast rate. ®