Nokia peddles pedal-powered charger
Bike power
Nokia may be losing the smartphone battle but it continues to make the running in developing countries. And maybe for tree huggers too.
The handset maker has devised the Nokia Bicycle Charger Kit – a charger and dynamo and a holder to secure the phone to the bike.
Get pedalling and the dynamo uses the movement of the wheels to charge your Nokia handset. Simple, huh!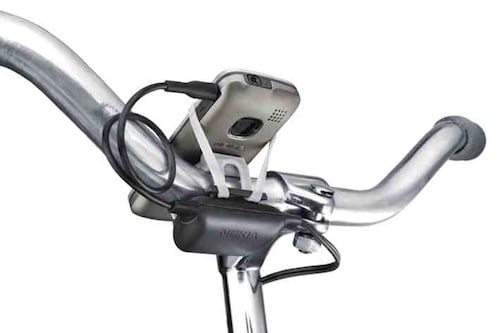 Says Alex Lambeek, a Nokia veep: "This is a great solution to a real challenge, whether people will use it due to limited access to electricity, or to be more environmentally responsible."
Quite right.
It is common enough for the rural poor in many countries to have no electricity in their homes. But they may have a mobile phone – they cycle to a phone shop in the nearest town to re-charge.
So there could be a massive market here – if Nokia prices it right. Press reports suggest the charger should retail at about €15.
The Nokia Bicycle Charger Kit is out before the end of the year through selected retailers and through Nokia online.
Sponsored: Detecting cyber attacks as a small to medium business