US Navy develops toss-proof robot crane
Allows matelots to unload safely out at sea
US Navy boffinry chiefs say they have successfully tested a cunning, heavily augmented crane which allows containers to be loaded on and off ships tossing on the waves out at sea, removing the need for a harbour when mounting an invasion or delivering humanitarian aid.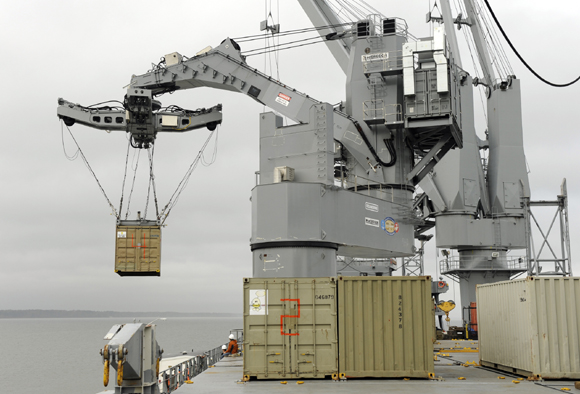 Hah, the crinkly stuff holds no terrors for us now
According to the Office of Naval Research (ONR), recent trials of the automated Large Vessel Interface Lift On/Lift Off (LVI Lo/Lo) robo-crane in the Gulf of Mexico were highly successful.
Present day crane technology means that ships can normally be loaded or unloaded only in sheltered harbours, where calm waters mean that vessels don't plunge up and down causing multi-tonne suspended loads to swing about destructively. Generally the only craft able to unload without a harbour are specialised amphibious warships, which use internal floating docks to shift cargo onto landing craft or lighters. (Helicopter lift is another military solution, though limited to lighter loads.)
The trouble with specialist landing ships is that they are expensive and scarce, and take time to return with another load. During an invasion or a major relief effort this time may not be available, which is why such endeavours tend to be so dependent on capturing or otherwise getting the use of a nearby harbour early on.
But the cunning LVI Lo/Lo robocrane can apparently compensate for surging decks and lurching loads with ease, setting down a massive ISO container gently aboard a neighbouring ship without trouble and requiring far fewer personnel than normal seagoing cranes.
The ONR consider that this would allow US forces to pour supplies and materiel ashore even where no harbour could be found, as ordinary container transports equipped with LVI Lo/Lo cranes would be able to offload onto landing craft, floating "sea bases", hovercraft etc just off the beach even in rough seas.
Apart from being a boon to military logistics, the ONR developers think their kit might have commercial applications - for instance in the offshore oil and gas industry.
The just-completed trials saw 20-foot ISO containers lifted on and off the US transport Flickertail State to other ships in waves "up to 1 meter in height". The trial LVI Lo/Lo crane remains available for future use aboard the Flickertail State if required, but so far there are no firm plans for more installations. ®