Want to stiffen your rack?
Vibration researcher weighs up GPC and rubber bands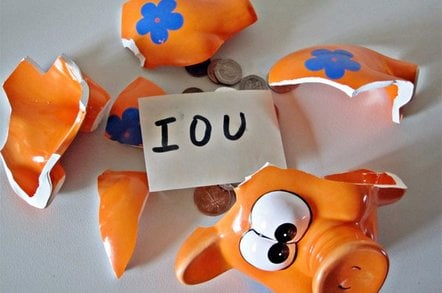 Data centre storage arrays slow down because of background data centre vibration. Or so consultant Julian Turner maintains. Others deny the problem even exists.
Julian Turner's research which showed the vibration-induced performance drop off identified Green Platform Corporation (GPC).
Turner said: "They are definitely the leader in this area and supplied the rack that I used for my testing in the Tier 1 data center. They provide a state-of-the-art whole-rack enclosure that complies with industry standards. As such, you can put pretty much any array/server/rackable component in it.
"Through the use of composite material, carbon fiber, and elastomers they provide a turn-key solution that isolates pieces of equipment from both the data center (UPS, air handlers, floor, other racks, etc.) and other equipment within the rack."
He knows of one other vendor but can't reveal its name as he has signed a non-disclosure agreement (NDA) with it.
We asked him if you could mount arrays from vendors such as Dell, EMC, HP and NetApp in such racks?
He said: "In most cases the answer is yes. The GPC rack is industry-compliant so as long as the equipment can be mounted in a standard 19-inch cabinet rack then it will fit in the GPC product. However, there are a small number of products from these companies that will only fit in the proprietary enclosures provided by the array manufacturer."
Are there any consultancies offering data centre vibration reduction or control services?
"To say that this field is in its infancy is an understatement. There are several companies that specialize in vibration... but to my knowledge the testing I did was the first to actually prove a corellation between real-world data center vibration and performance. At this point, I am probably the sole 'consultant' in this field in the world."
Turner said the feedback that he received from his work "has been completely bipolar. On the one hand, I have had people call me an out-right liar; the quote from one person was 'I have been doing benchmarking for 15 years and have never encountered performance issues caused by vibration. How people could possibly believe your BS is beyond me.'
"On the other hand, I have had engineers from several large high-performance computing (HPC) shops tell me they starting experience this problem 2-3 years ago. One HPC shop actually started about a year ago pulling every single hard drive before putting it in production and puts an industrial rubber band around it to reduce vibration. By their math they saw a 10-15 per cent increase in performance for some of their work-loads."
Turner reckons that we basically have a flat-earth syndrome. If you are not looking for a spherical Earth, it is just too easy to say the Earth is flat and assume his testing was faulty when a result does not support that theory.
He wants people to replicate his work because he's certain they'll get the same results as he did. The key step is making sure that the read/write data is randomly distributed across the entire hard drive such that it causes the head to constantly move.
Some people would criticise this requirement as being non-real-world (and for their environment, perhaps that is true). But he says he has been around HPC and enterprise environments long enough - more than 15 years in fact - to know that, given enough time, even the most sequential data becomes randomly distributed across a drive.
Turner has talked to several storage array manufacturers that were extremely interested in his findings. "There are at least two manufacturers that are currently testing their arrays in the GPC racks. Interestingly enough, performance is not their primary concern. Several manufacturers that specialize in HPC (think 500TB+ per rack) are having issues where vibration is literally causing arrays to self-destruct."
He says there is also at least one major rack manufacturer that is looking at potentially adding "performance options" to their racks.
If you want to screen out vibration from your arrays then the only option available currently is to use GPC racks, as long as your storage array supplier's kit will fit into industry-standard 19-inch racking. If it doesn't then try fitting an industrial rubber band around each drive; it's quite literally a band aid, but sometimes that has to do.
Hopefully a second vibration-absorbing rack manufacture will announce itself and, secondly, actual storage array suppliers will introduce vibration-resistant racks. ®
Sponsored: Quit your addiction to storage