Freeview HD sacrifices surround sound for World Cup scramble
Same old show on my stereo
Freeview HD may have kicked off to a song and dance about pin-sharp pictures for the World Cup, but many buyers have been disappointed to discover that things sound far from rosy when it comes to the audio side of the service.
Some of the adverts and even Freeview's own web site talk about surround sound as a benefit of Freeview HD. The reality is rather different.
Many viewers are stuck with stereo when they watch the relatively few programmes with 5.1 audio tracks - even if they have a 5.1 channel sound system at home.
The problem's down to broadcasters using the AAC codec, rather than Dolby Digital Plus, a decision taken to ensure provision of Audio Description.
The Freeview HD spec allows for boh AAC and Dolby Digital Plus, but manufacturers seem to have assumed that the Dolby system would be used for surround sound.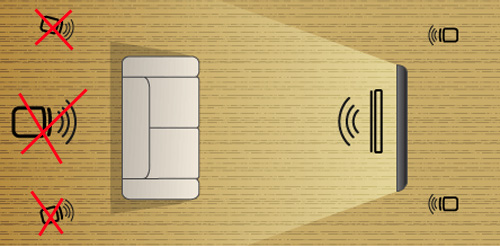 Surrounds a bit unlikely
Neither codec is supported by most home AV equipment, which typically accepts Dolby Digital or DTS. Dolby Digital Plus can be converted to Dolby Digital fairly easily, but neither transcoding from AAC to Dolby Digital nor multi-channel output via HDMI was originally necessary for Freeview HD certification; a stereo output suffices for now, though full multi-channel output via S/PDIF or HDMI will be required on equipment launched from April 2011.
That information is notably absent from the Freeview HD site, and raises the question of whether getting kit in the shops for the World Cup was more important than making sure it did everything customers might expect of it.
Some receivers may get firmware updates – principally set top boxes, it seems – but other equipment won't. In short, if you've already invested in a Freeview HD TV hoping for 5.1 audio with your favourite programmes, the news sounds very unpromising.
Sponsored: Your Guide to Becoming Truly Data-Driven with Unrivalled Data Analytics Performance